Holz Outmaneuvers Faraz Jaka, Viktor Blom To Win Title
Published on September 30th, 2014 4:51 pm EST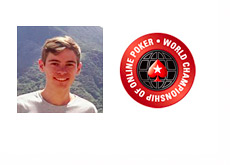 After many gruelling hours of play, the most prestigious tournament in all of online poker, Pokerstars' WCOOP (World Championship of Online Poker) main event, was won by Fedor "CrownUpGuy" Holz of Austria.
The 2014 WCOOP main event had a total of 2,142 entries, meaning that the final prize pool was a little over $10.7 million USD. This massive prize pool meant that the winner would end up walking away with $1,820,700, provided that no final table deal was reached.
In the end, a six-way deal was reached and the final table payouts ended up looking like this:
1. Fedor "CrownUpGuy" Holz (Austria) -- $1,300,000.00
2. Yuri "theNERDguy" Martins (Brazil) -- $708,251.21
3. neckbr4ke (Germany) -- $651,430.61
4. Elior "Crazy Elior" Sion (United Kingdom) -- $780,227.66
5. Faraz "The-Toilet 0" Jaka (Poland) -- $945,000.00
6. 19Dan86 (United Kingdom) -- $769,813.52
7. Dylan "Pokerl)eviL" Hortin (Canada) -- $214,200.00
8. MaltLiquor40 (Canada) -- $160,650.00
9. Viktor "Isildur1" Blom (United Kingdom) -- $107,100.00
-
The final hand of the event was a spectacular one, as both Holz and Martins ended up committing their remaining stacks with the board reading:
8c-Td-4d-Jd-Ts
Following an all-in push from "CrownUpGuy" on the river, Martins called and tabled his pair of Fours for a full house. Unfortunately for the Brazilian player, Holz had something even better - two Tens for Quad Tens. Holz was able to walk away with an extra $200,000, per the terms of the six-way deal, bringing his total haul for the tournament up to $1.3 million.
-
There were a few very well-known names at the final table, including Faraz Jaka and Viktor "Isildur1" Blom, but neither man was able to close out the tournament.
--
Filed Under:
Tournament Results