Blom's Recent Run Has Re-Ignited High Stakes Games
Published on May 6th, 2015 12:57 pm EST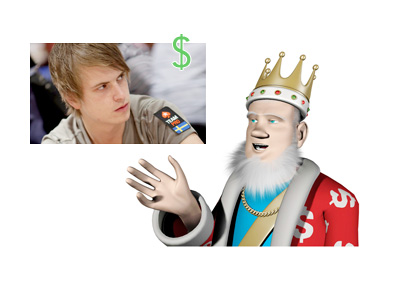 The high stakes games on Full Tilt Poker and Pokerstars are nothing like they used to be.
Six or seven years ago, back when Full Tilt Poker 1.0 was still a solvent company, the online high stakes games raged at a fever pitch. Rarely a day would go by when the likes of Phil Ivey or Patrik Antonius or Ilari Sahamies or Viktor "Isildur1" Blom wasn't holding court on one of the site's ultra-high stakes tables. People on message boards would excitedly post when a notable player sat on one of Full Tilt Poker's biggest buy-in tables and thousands of people from across the world would pull up the action to watch.
The high stakes games have taken a beating ever since Full Tilt Poker 1.0 shut its doors. The massive distribution payments that were helping to fund the high stakes economy vanished overnight and the games suffered greatly as a result. Phil Ivey and Patrik Antonius, no longer members of "Team Full Tilt" and no longer bound to play on the site, don't frequent Full Tilt Poker nearly as much as they used to and much of the "star power" of the high stakes games has evaporated.
Viktor "Isildur1" Blom, however, has hung around, despite the fact that he no longer has sponsorship deals with either Pokerstars or Full Tilt Poker. People still get energized by one of Blom's legendary runs and he has been on one to start the month of May.
According to HighStakesDB.com (link below), Blom is currently up approximately $650,000 to start the month of May. In typical Blom fashion, the Swedish phenom has been very active, logging over 13,000 hands over the first five days of the month.
Blom's recent success has not gone unnoticed, as the likes of Phil Ivey, Patrik Antonius and Alexander Kostritsyn have all appeared to try and relieve Blom of some of his bankroll. The result? Massive swings that have seen Blom swing from $1 million+ to breakeven to +$650k over the course of just a few hours.
-
Blom, as we've seen in the past, likes to keep playing and playing and playing when he is in the midst of an upswing. It will be interesting to see how this one ends up turning out.
Source:
HighStakesDB.com
--
Filed Under:
Cash Games