Published on August 6th, 2007 3:58 pm EST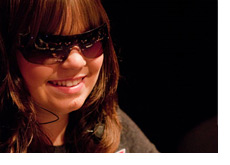 Annette_15, aka Annette Obrestad, finally took down a major Sunday tournament on Sunday night, outlasting the competition and taking down a first place prize of just over $117k.
Annette_15, who is arguably the most popular player in the online poker world, had recently lamented that Sunday was her worst day, and that she consistently threw thousands of dollars down the hole by playing in all of the major Sunday tournaments. When you add in all of the major Sunday tournaments, plus all of the rebuy tournaments that take place on Pokerstars, it can definitely become a very expensive day if you don't final table at least one event.
Annette started drawing attention once there were about 100 people left in the tournaments. Her rail started to grow, and by the time she had reached the final table, you had hundreds of people watching and cheering for Annette on the rail.
Annette_15 was near the chip lead pretty much throughout most of the final two tables, playing her usual aggressive game. The hand that turned all the momentum in her favor and gave her the tournament came during three-handed action. The three players remaining had just about the same amount of chips. Annette_15 flopped quads (pocket sixes) and got all-in against her opponent who had pocket Jacks. Her opponent was dead after the turn, and Annette_15 soon won the tournament when her AQ held up against the A10 of her short-stacked opponent.
Annette_15 will surely do some major damage in Vegas when she is old enough to play there. Until then, expect Annette_15 to continue smashing her competition online.
Photo: GreasieWheels.com
--
Filed Under:
Tournament Results