Published on August 14th, 2007 7:56 pm EST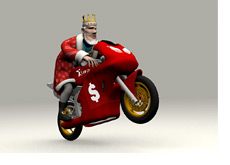 The TerrorofSweden has always been an interesting character to watch on Full Tilt Poker. He always seems to have unlimited amounts of money and he always seems to play recklessly. This reckless play can be very effective when he is in control, however when he is steaming, he can tilt off hundreds of thousands of dollars within a few hours.
TerrorofSweden has become especially well known in the past couple of days, as he amassed a spectacularly sized stack on the $200/$400 Pot Limit Omaha tables on Full Tilt Poker. With a max buy-in of $40,000, TerrorofSweden amassed a stack of $350,000 before pulling back slightly and quitting for the night.
Now, TerrorofSweden is a relatively unknown character. However, most people seem to think that TerrorofSweden is Mohamad Kowssarie, a player living in Goteberg, Sweden. Some people also think, though this is unconfirmed, that TerrorofSweden is also fast_freddie on Prima, who has been involved in some of the biggest pots of all-time online. fast_freddie was apparently the player that put Johnny Lodden on tilt and caused him to take a substantial hit to his bankroll.
This is pure speculation on the part of other sites. We are fairly sure that TerrorofSweden is Kowssarie. There is not much else to say about TerrorofSweden other than the fact that he has some of the most memorable tilt sessions ever, and we are surprised that he hasn't had his chat banned on Full Tilt Poker (if he hasn't already had it banned.)
--
Filed Under:
Cash Games
|
Players In The News