Published on August 18th, 2007 8:34 pm EST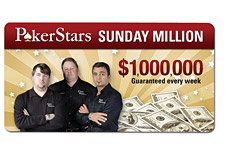 With all of the recent talk about strong players taking over accounts for other players late in a tournament, we found it interesting that Pokerstars has busted an account for doing exactly this (account takeover late in a major tournament.) The exact identity of the account is not known as of yet, but it was one of these nine accounts that final tabled the 8/12 Pokerstars Millions tournament:
1. IG0tDibs
2. downosaur
3. Roberta114
4. roosterfish
5. flyndra
6. EirikS
7. PokerSkill
8. bobbybagpipe
9. barbar31
Pokerstars sent an email a player who finished on the final table bubble, saying that an account that had finished in front of him had been disqualified, and he was receiving a bump-up in pay, as per Pokerstars policy.
Pokerstars also noted that the disqualified account wasn't colluding, but instead that another person had taken over the account late in the tournament.
This is happening all the time and really has to stop. As soon as we find out the identity of the disqualified account, we'll post it here. We'd also be interested to know who took over the account, but that will be much harder to find out.
--
Filed Under:
Poker Scandals
|
Online Poker Rooms