100 or So Players Still Battling For $5.1 Million First Place Prize
Published on January 8th, 2019 5:34 pm EST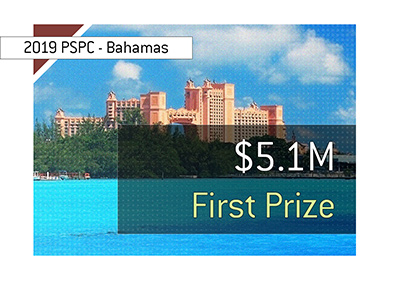 The prize pool and payouts for the 2019 PSPC (Pokerstars Players Championship) have now been set.
A total of 1,039 players turned out for the inaugural PSPC in the Bahamas, creating a total prize pool of $26,455,500. Pokerstars' traditional "administrative fee" of $750 was returned to the prize pool, plus the site decided to add $1 million to the eventual winner's payout.
The 1,039 player turnout means that the tournament will be the largest $25,000 event of all time by a long shot. The turnout was certainly helped by the fact that Pokerstars' added more than 300 entrants to the tournament via their "Platinum Pass" promotion, which saw people earn free entries (plus travel and accommodation costs) for a variety of different reasons (winning tournaments, special promotions, etc).
-
The eventual winner of the PSPC will walk away with a monstrous payday of $5.1 million, which is an enormously high first place prize for a tournament of 1,000+ players.
Here are the final table payouts:
1st - $5,100,000
2nd - $2,974,000
3rd - $2,168,000
4th - $1,657,000
5th - $1,304,000
6th - $1,012,000
7th - $746,000
8th - $509,000
9th - $405,000
The top 31 players will all receive payouts in excess of $100,000, while the top 181 finishers walked away with a minimum of $25,450.
-
The fact that there were so many "Platinum Pass" recipients made for an extremely long money bubble, with hand-for-hand play taking a number of hours to finish.
In the end, Paul Leckey was the unlucky "bubble boy", though he was awarded with an EPT Monte Carlo prize package worth $11,000 for his troubles.
--
Filed Under:
Tournament Results