Published on September 9th, 2007 6:55 pm EST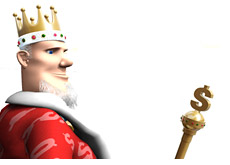 If you were to stake one poker player in heads-up action online, who would it be?
Who is currently the most talented heads-up player online in your opinion? Who would you least want to face in heads-up action at the end of a long tournament?
Is it Sorel "Imper1um" Mizzi? He has won multiple heads-up showdowns on Pokerstars (the 10k showdown). He is one of the best finishers of poker tournaments online today, and is generally regarded as being one of the best heads-up players in the world.
Or do you pick Lars Luzak, the Finnish high stakes player who gives other pros fits. Lars Luzak has to be considered one of the top cash game players online today, especially in heads-up action.
Of course you also have to consider live pros who occasionally play online. What better person to back in a heads-up match, if there is serious money on the line, than Phil Ivey? If you wanted to back a player who wouldn't get nervous no matter what the stakes were, Ivey would probably be your man. He destroyed Andy Beal in heads-up Holdem action at absolute nosebleed stakes.
Or what about Brian "sbrugby" Townsend?
You would have a hard time finding a player that has had more success over the past 12-18 months, especially in heads-up action.
Patrik Antonius? Antonius is probably the most consistent winner online in the past 3-4 years, and is a heads-up specialist. Antonius is so good that top pros don't want to face off against him. If you could back one player, would it be Antonius?
Or would you choose someone else?
If you could back one player, who would it be? Who would most you the most money, and have the smallest chance of busting your stake?
--
Filed Under:
Cash Games
|
Miscellaneous King Articles