Published on September 10th, 2007 6:25 pm EST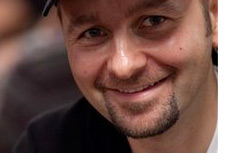 Daniel Negreanu has been playing some high stakes cash games on Pokerstars in the past few weeks, and so far, he isn't impressed.
Negreanu, though his chat on Pokerstars and on his message board forum at Fullcontactpoker.com, seems less and less impressed with his competition as each day passes.
First he took down the High Stakes Heads Up showdown, and now he has fared reasonably well in the biggest cash games on Stars. This has led him, in his own words, to say that he is "not very impressed" with the top cash game players that he has faced.
So the question is, if you pit Negreanu up against some of the top cash game players on Stars, in either PLO or NLHE, who has the edge? Negreanu vs. ADZ124 heads up, who do you take? Or how about Negreanu vs. aba20, or Negreanu vs. Genius28? (note, Negreanu plays on Stars as "KidPoker.")
It will be interesting to see how this plays out over the next few weeks, as I just know that many players will challenge Negreanu, as they feel as though they have been called out.
I think that Negreanu, while a great player, may be a bit too over-confident. I am not sure that he has much of a long-term edge, if any, over players such as ADZ124 or Genius28.
It will definitely make for some interesting railing.
Photo: GreasieWheels.com
--
Filed Under:
Cash Games
|
Players In The News