Published on September 12th, 2007 4:55 pm EST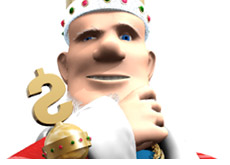 For a few month period, anytime you logged in to Full Tilt Poker, you were almost assured that there would be a big No Limit Hold'em game going.
However, recently (I would say over the past month) the big stake No Limit Hold'em cash games on Full Tilt Poker have been basically non-existent.
What could be the reason for this? Why did the games suddenly die? Here are some possible explanations:
1. After the World Series of Poker and before the WSOPE, perhaps a number of high stakes players simply took time off from the tables, burnt out after a long WSOP.
2. Pot Limit Omaha is more and more becoming the game of choice amongst the high limit players, due to the amount of action. You will still see many high stakes PLO games going on Full Tilt Poker.
3. Many of the top players have been MIA online in the past month or so. Phil Ivey hasn't been playing that much. Gus Hansen has seemingly cut down on his online playing time. SBRugby has been at lower levels to rebuild his confidence. I think that some of the top pros like to play whenever Brian Townsend is playing, just cause he is one of the top online cash game players, and they feel as though they have an edge over him due to their experience. So if he isn't playing the big NLHE cash games, the games in general suffer.
Hopefully the big NLHE cash games on Full Tilt Poker start taking place with some regularity again. Railing at those levels can be fun, especially considering the talent and egos involved.
--
Filed Under:
Cash Games
|
Online Poker Rooms