Battle Will Likely Take Place Following Conclusion of World Series of Poker Online
Published on July 31st, 2020 7:08 pm EST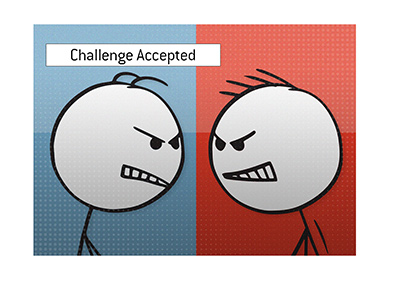 Daniel Negreanu and Doug Polk don't like each other.
That goes without saying.
Doug Polk has taunted Negreanu numerous times over the past number of years, especially targeting the "more rake is better" stance that Negreanu may or may not have taken in the past.
Polk has taken things to some pretty extraordinary levels, including buying a "More Rake is Better" billboard and sporting a "More Rake is Better" t-shirt at a table while playing with Negreanu.
Things came to a head last week after Polk made a video that made light of Negreanu losing his cool following some comments that were reportedly directed towards his wife, Amanda Negreanu. Polk made the video (which has since been taken down), raising Negreanu's ire once again.
After some back-and-forth, the two men agreed to a heads-up match that will likely take place shortly following the conclusion of the World Series of Poker Online.
-
Negreanu, in a post titled "
Why I've Accepted the Challenge
", basically readies his fans for the likelihood that he will lose.
Negreanu contends that the Challenge will not be on his terms - rather, Doug Polk's terms.
So what are the terms?
It sounds as though the two men will be playing between 10,000 to 25,000 hands of $200/$400 online.
There will be an additional prize going to the winner, likely in the neighbourhood of a couple hundred thousand dollars.
-
In the blog posting, Negreanu rips into Polk pretty hard, and it's clear that he despises Doug.
It's probably better that these two won't be sitting across from each other at a "live" poker table.
-
Negreanu contends that he is the underdog for this contest, while Polk says that it has been years since he has studied high stakes poker.
Who do you think will win?
--
Filed Under:
Cash Games