Published on October 9th, 2007 4:05 am EST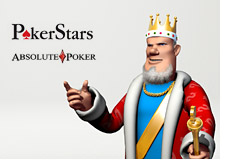 Many people are extremely curious as to how the Absolute Poker and Pokerstars investigations are progressing. Neither situation has been resolved as of yet, so we can only tell you the things that we have heard from various sources within the industry. Until we receive some sort of official statements from either company, take anything you read here with a grain of salt.
The Absolute Poker investigation into "Holecard-Gate?" From our perspective, it has been a frustrating stonewall of silence. We've heard one "official" statement from the company, which was an affiliate manager posting a poorly-written "statement" on a poker affiliate website.
Keep in mind that this scandal first erupted about 3 to 3 1/2 weeks ago. I am not sure whether or not the company is actually investigating or just hoping that the whole thing just goes away and people forget about it. Until the company issues some sort of formal statement to the players of its site, we are not going to let the issue drop.
This isn't some small matter. Many in the poker community think that there is something shady going on at the company. The company's response to the entire matter has been pretty weak so far. Their only "statement" raised more questions than answers. If I were the owner of a poker room and people were questioning in the integrity of my site, I would be going wild, posting on every message board and sending out email after email to my users, making sure that they knew that my site was safe to play on. That is if there were no problems with my site. Absolute Poker's silence in this matter is deafening. Is there truth to the accusation that there were some "superuser" accounts on Absolute Poker that could see hole cards of other players at the table? I would suggest that someone high up at Absolute Poker seriously address this question.
In the matter of "theV0id", Pokerstars is still investigating by all accounts.
Pokerstars has made all of the right moves so far. They immediately began the investigation once the allegations of multi-accounting surfaced, they reached out to the online community to keep them posted and confirm that there was indeed an investigation, and they seem to be thoroughly investigating before making any decision.
We've heard rumors that they will be confiscating all of the earnings from "TheV0id" for the main event win, but this is unconfirmed. Until you hear it directly from Pokerstars, don't believe anything that you hear. The "TheV0id" account hasn't been banned as of yet from Pokerstars, that's all that we can tell you with 100% certainty.
Considering that there may have been cheating involved in their biggest event of the year, you can forgive Pokerstars for taking some extra time to make sure that every detail is checked and re-checked before making an official decision and announcement.
As soon as we hear anything concrete from either company, we will update our site.
--
Filed Under:
Poker Scandals
|
Online Poker Rooms