Published on October 11th, 2007 5:57 am EST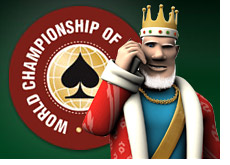 I wasn't going to write about the Pokerstars WCOOP investigation tonight, but there are a lot of rumors going around so I thought that I would write this article to let everyone know what I have been told.
There was a rumor going around tonight that the investigation into "TheV0id" had ended, and that Pokerstars had found no wrong-doing and had declared "TheV0id" the legitimate winner.
Pokerstars has informed me tonight that this is not the case.
I was told that they are continuing their investigation, and that both Pokerstars security staff and the management of Pokerstars are reviewing the case and deciding what to do.
The fact that this investigation has dragged on for almost two weeks now doesn't bode well for "TheV0id", in my opinion. The last thing that Pokerstars wants is for this investigation to linger. The fact that this has gone on for some time now just leads me to believe that there is some pretty substantial evidence of wrongdoing.
Pokerstars also said that they will be making an official statement when they have reached a final decision.
--
Filed Under:
Poker Scandals
|
Online Poker Rooms