Published on October 12th, 2007 12:30 am EST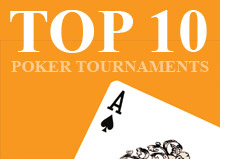 If you were to make a list of the most important and notable poker tournaments of all time, how would it look? Which tournaments had the biggest impact on the game as we know it? Which tournaments pop into your mind when you try to concoct your own list? How many of these do you agree / disagree with?
1. The 1968 World Series of Poker. The first World Series of Poker at Binion's first took place in 1970, but the first actual World Series of Poker took place in 1968 at the Holiday Hotel and Casino in Reno, and it was won by Crandell Addington. Without the World Series of Poker, where would poker be? The World Series of Poker brought poker to the mainstream.
2. The 1973 World Series of Poker. The first World Series of Poker to ever be televised. Narrated by Jimmy "The Greek" Snyder and won by Walter "Puggy" Pearson. All in all, a pretty uneventful tournament (just 13 entrants). However, the event was televised in the form of a documentary, and when you consider the amount of poker that is on TV nowadays and how much it has impacted the game, this tournament has to be near the top of the list.
3. The 2003 World Series of Poker. Set the poker boom in motion. Was won by Chris Moneymaker, an online qualifier. You have to put the 2003 World Series of Poker near the top of the list. If it weren't for the World Series of Poker in 2003, you would probably not be playing online, and you definitely wouldn't be reading this article.
4. 1997 World Series of Poker. Won by Stu Ungar, his last World Series of Poker title. Why is this tournament notable? Because it shines a light on everything that is wrong with poker; the addictions (drugs, gambling, alcohol) that are woven into the fabric of the game. Ungar played the World Series of Poker with collapsed nostrils due to excessive cocaine abuse. Soon after the World Series of Poker had ended, he had switched to crack, gambled away all of his winnings and had burned every bridge. You can't make a list like this without putting Stu Ungar's victory in there somewhere.
5. 2000 Poker Million. This tournament was notable because it was the first time that holecard-cam technology was used while broadcasting a poker tournament on television. Without being able to see the player's hole cards, would televised poker be nearly as entertaining? And without poker entertaining us on TV, would there be nearly as many people playing?
6. 2002 WCOOP. You can not make a list like this without mentioning at least one online tournament. You can pick anyone that you want; the first multi-table tournament that ever ran online; the first Sunday Million; the first online tournament with a prize pool of over a million dollars. Why not pick the first flagship tournament from the biggest online poker room in the world. Online tournaments have permanently altered the game of poker. In 2002, Pokerstars first ran the WCOOP. The main event had a $1k buy-in, 238 people played and first prize was $65,450. Compare those numbers to the 2007 WCOOP and you can see how far we have come when it comes to online poker.
7. The 1989 World Series of Poker. Phil Hellmuth becomes the youngest bracelet winner ever (at the time). I feel that this tournament is important because Hellmuth popularized the entire "Bad Boy" routine at the poker table. He made it ok to belittle your opponent if they made a bad play. Anytime someone rants and raves about your play at the table, you can thank Phil Hellmuth. He brings out the inner dork in many people all across the world.
8. The 2002 Five Diamond World Poker Classic. The inaugural event of the World Poker Tour. If Chris Moneymaker brought people to online poker, then the World Poker Tour kept this coming. The show became a monster success almost overnight. Gus Hansen ended up taking down the tournament. Check out this final table: Gus Hansen, John Juanda, Freddy Deeb, John Hennigan, Chris Bigler and Scotty Nguyen.
9. 2007 WSOPE. The fact that the inaugural World Series of Poker Europe main event was won by Annette "Annette_15" Obrestad makes it even more special, considering the fact that she was 18 when she won. In a male-dominated sport, a major tournament being won by an 18 year old female is a big, big deal.
10. Party Poker Million I, 2002. Featured a victory by Kathy Liebert, who became the first woman to ever win a "major" poker tournament ($1 million dollar prize or higher.) According to Party Poker, this tournament was also the first time that a major tournament had had online qualifiers as well as direct buy-ins.
Other possibilities? How about Jack Straus's 1982 win when he thought that he was out of the tournament and later discovered that he had one $500 chip left and went on to win? Or how about Johnny Chan's 1988 main event victory? Any others that come to mind?
--
Filed Under:
Tournament Results
|
Miscellaneous King Articles