Both Players Putting Up $400,000 For "High Stakes Duel" Match
Published on April 26th, 2022 2:14 pm EST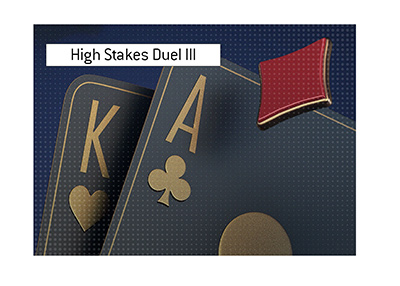 Phil Hellmuth and Tom "durrrr" Dwan are set to battle again on "High Stakes Duel".
Tom Dwan has officially exercised his rematch clause, and the two will be battling yet again on "High Stakes Duel".
Per the terms of the match, the two players will both be putting up $400,000, with the winner taking all of it.
The match will be broadcast on PokerGO on Thursday, May 12th, 2022 (8 pm ET).
-
This is technically Round 4 of "High Stakes Duel III", as Tom Dwan stepped in after Nick Wright lost his first-round match to Phil Hellmuth.
At the time, Phil Hellmuth was enjoying a 7-match unbeaten streak on the show, as he had beaten Antonio Esfandiari three times, Daniel Negreanu three times and then Nick Wright once.
Tom Dwan put an end to the streak after he beat Hellmuth for $100,000 in their Round 2 match.
Hellmuth exercised his rematch clause and got revenge in Round 3, beating Tom Dwan and taking home $400,000 in the process.
-
In order to be able to walk away from the match, a player must either:
1) Win three consecutive matches before Round 4
2) Two consecutive matches starting with Round 4
So, regardless of who wins Round 4, the loser will be able to request a match.
The stakes will continue to rise - if there is a Round 5, both players would have to put up $800,000.
Of course, the loser can also decline a rematch as well.
-
The stakes can continue to double until Round 8, when there would be a total of $12,800,000 in prize money. It seems hard to imagine either player wanting to play for that much money in a single match.
-
As mentioned, "High Stakes Duel III" (Round 4) will take place on Thursday, May 12th.
--
Filed Under:
Cash Games