Published on October 18th, 2007 4:23 pm EST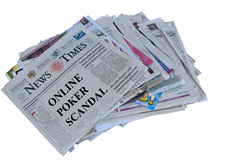 There has been a lot of new activity in regards to the Absolute Poker story since we last wrote an article. The story is breaking fast and new pieces of the puzzle seem to be added every hour, so I thought that I would take the opportunity to highlight a few pieces of recent news, plus provide some important links for anyone that needs more information on this story.
First off, this story is starting to hit the mainstream press. Here are a few links:
Absolute Poker Cheating Allegations - The Register
NY Times Blog Which Explains the Situation
The blog above does an excellent job in bringing you up to speed on the entire situation.
For the late-breaking news, I recommend that you check out this thread on 2+2:
2+2 Thread
For another great write-up on the situation, check out:
Nat Arem's Blog
Yesterday we were listed on the front page of Digg.com. Our story, "Absolute Poker: Going, going.." has received 2375 Diggs since around this time yesterday.
Here is the breakdown of the traffic for those interested. I included the previous two days of traffic just so that you can see the difference. First you have Visitors, then Page Views and then Hits:
15 Oct 2007 2151 4804 87364
16 Oct 2007 2698 6659 109361
17 Oct 2007 20052 108829 2457999
18 Oct 2007 18375 33479 799057
I was a little worried that our site would die, but it held up pretty well. It only went down briefly due to too many MySQL connections at one time.
It was great to be on the first page of Digg.com, however the story at the time was over 1 1/2 days old, which is an eternity when it comes to this fast-breaking story. The Freakonomics blog was also Dugg though, which is good, because I feel it did a better job of explaining the story.
In addition to mainstream media starting to pick up on the story, some of the major poker news sites online are finally starting to write about the story, which is important. No matter what the resolution is to this story, people need to be made aware of it.
The Kahnawake Gaming Commission have said that they have launched an audit into Absolute Poker.
We'll have more on the Absolute Poker situation tonight. We'll keep adding links of interest to this page, as I want people to be as educated about the situation as possible, and there is some great work being done on sites such as 2+2 and Pocketfives and others.
--
Filed Under:
Poker Scandals
|
Online Poker Rooms