Published on November 19th, 2007 7:07 pm EST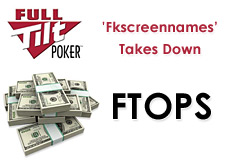 "Fkscreennames" absolutely dominated the FTOPS Main Event final table on Sunday en route to taking down the $385k first prize. There was really never any doubt, as "Fkscreennames" was seemingly a men amongst boys at the final table, making some incredible reads and putting tremendous pressure on his opponents.
If you were watching the final table, you probably thought to yourself that "Fkscreennames" must be an experienced online poker player, considering the way that he dominated the final table.
You'd be right, as "Fkscreennames" is also "aaaaaaaa" on Pokerstars, a very accomplished large-field tournament player on the site. "aaaaaaaa" has had tremendous success on Pokerstars, including taking down the Sunday Millions in early 2006.
"Fkscreennames" turned in one of the most impressive outings of the year in big online tournaments, and is a very worthy FTOPS main event champion. Not only does he get $385k for his troubles, but he will also receive a special "FTOPS Champion" avatar.
--
Filed Under:
Tournament Results