Published on December 10th, 2007 2:19 am EST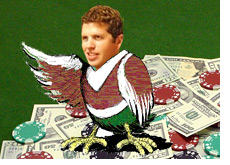 You may know Greg Hobson a little better by his Full Tilt Poker and Pokerstars alias, "DuckU."
"DuckU" shot to prominence earlier in 2007 when he took down back to back Full Tilt Poker Sunday major tournaments. In addition to that, he took down a $1k Full Tilt Poker tournament in July for $82k, and has countless other impressive cashes so far in 2007. Greg Hobson is proving himself to be one of the most impressive and most consistent players online.
Anyways, this weekend "Wild Duck" torched the UBOC 2 tournaments on Ultimatebet. To start, he took down UBOC #2 for $29k, which was a NLHE tournament with rebuys. Then, just a day later, he takes down UBOC #4 ($200k Guaranteed) for $55k. Then, the SAME day he reaches the final table of UBOC #5 ($150k Guaranteed) and is rolling along until he gets crippled by the flush of "Rizen" and eventually goes out in 5th place for $14k. The fact that he took down 2 UBOC tournaments on consecutive days and nearly won a third is astonishing, and is a testament to how good of a poker player Greg Hobson is.
Not to be outdone, Sorel "Imper1um" Mizzi put on a show this weekend as he looked to put the recent Full Tilt Poker controversy behind him.
"Imper1um" started by taking down the "Tournament Titan" on Titan Poker for $200k ($188k in cash, $12k package to the 2008 World Series of Poker.) This was a 20 man SNG with a million dollar prize pool. This was a promotional tournament with no buy-in; most players qualified by making the final table of three consecutive tournaments, and the final two players qualified through a points race.
Then, to top it off, Mizzi had an extremely strong day on Pokerstars on Sunday. He took down a $100+$9 rebuy tournament for $45k; then he took down the High Stakes Poker Showdown against "p3achy_keen" for $20k; and then he went deep in the Sunday Million tournament, finishing 34th.
Two great weekends from two talented poker players.
--
Filed Under:
Tournament Results