Published on December 17th, 2007 12:00 am EST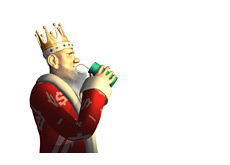 Sorel "Zangbezan24" Mizzi took down yet another High Stakes Showdown on Pokerstars Sunday afternoon, besting "Dariominieri" to take down the $25k first prize. Other competitors in this week's High Stakes Showdown included "Bebop86" and "MrSweets28."
Mizzi has absolutely owned this event since it was launched. No one else has come even close to matching his success in the High Stakes Showdown.
According to thepokerdb.com, Mizzi has now taken down this event 6 times since it began on July 8th.
On December 16th, he took down the 4-man Showdown for $25k.
Last week, on December the 9th, he took down the 2-man Showdown for $20k.
On December 2nd, he placed second in the 8-man Showdown for $30k.
On September 23rd, he took down the 8-man Showdown for $50k.
On September 9th, he came in second in the Showdown for $15k.
On August 5th and August 12th, Mizzi took down 8-man fields both weeks for $50k cashes.
And finally, on July 15th, Mizzi took down the 16-man field for a total cash of $72k.
That's a ridiculous $312k in total cashes and six victories since the event started in July.
The next closest to Mizzi in terms of victories in this event is "$tinger 88", who currently has three victories.
--
In other news, Full Tilt Poker have inked Scott Fischman to a sponsorship deal, further adding to their arsenal of top poker pros that are under contract.
No word as to what will happen to Fischman's site "thefishtank.com", or what the terms of his deal with FTP are.
Fischman will now play under the name of "Scott Fischman" on the site, instead of "emptyseat88."
--
Filed Under:
Tournament Results
|
Online Poker Rooms
|
Players In The News