Published on December 27th, 2007 5:08 pm EST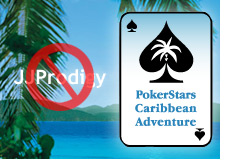 Josh "JJProdigy" Field will not be welcome at the PCA event taking place in January. Pokerstars, which hosts the event, said in an email this morning that "JJProdigy"'s lifetime ban on Pokerstars would extend to the PCA live event.
Here is the email that we received this morning when we asked for clarification on his status:
"Hello XXXX,
Thank you for your email.
PokerStars management has decided to extend player's JJProdigy current ban
to the PokerStars Carribean Adventure (PCA) event.
If you have any further questions, please let me know.
Regards,
Jacob
PokerStars Support Manager"
That is the email straight from Pokerstars. Josh Field had better change his plans for January. There is no word as to whether he still plans on playing in the Aussie Millions.
The ironic thing is that his recent "apology" almost certainly led to his being banned from the PCA. His apology, which was designed to hopefully build up a bit of goodwill with his fellow players before he played in a live event, actually led to even more outrage after he admitted that he has continued to multi-account even after being banned.
Some have speculated that this decision by Pokerstars will lead to even more multi-accounting by "JJProdigy", just out of spite.
Players are generally in favor of this move by Pokerstars, but many were left wondering: what about other players that have been banned by Pokerstars, such as Justin "Zeejustin" Bonomo? Will he be banned from the event as well?
--
Filed Under:
Poker Scandals