Published on January 3rd, 2008 4:15 am EST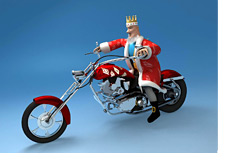 Chad Batista, known as "Jse81" on Full Tilt Poker and "lilholdem954" on Pokerstars, fired the opening salvo in the race to be crowned the top online poker player in 2008 by taking down the $300 "New Year's Resolution" tournament on Full Tilt Poker yesterday.
Batista topped a field of 721 players and took down the first place prize of $46k for his efforts. By taking down one of the first sizable events of 2008, Batista quickly established that he will continue to be a force in 2008, just as he was in 2007.
Batista was one of the top players online in 2007, if not THE top player. He made a ridiculous amount of money in 2007, taking down the FTP $1 Million Guarantee on July 15th for $212k and a Super Tuesday on Pokerstars for $91k on September 11th, just to name a few.
Batista finished 2007 atop the Pocketfives.com leadership board with a grand total of 17762.99 points, almost 2k points ahead of his nearest competitor, "Sctrojans". He also finished 8th on the Cardplayer.com Online Player of the Year Leaderboard.
If Batista puts in the same amount of hours that he put in last year, he will be a tough player to top in '08. His fiercely competitive nature and finely tuned poker skills make him a legitimate threat to win any poker tournament that he chooses to enter. The only question is: can he possibly top his '07 results?
--
Filed Under:
Tournament Results