Published on February 14th, 2008 4:04 am EST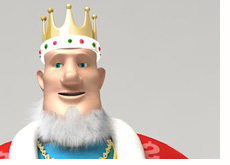 It's pretty rare when you see that the same person has made the most money in both the high stakes No Limit Hold'em games and Pot Limit Omaha games on Full Tilt Poker, almost two weeks into the month. But from February 1st to February 13th on Full Tilt Poker, "trex313" has done just that and has outearned everyone in both games.
Even after dropping a couple hundred grand yesterday, "Trex313" still sits atop the list of highest earning No Limit Hold'em players on Full Tilt Poker in February with a total haul of $350k. "MUCKEMSAYUHH" has a profit of $144k, "Bawankawonk" has earned $126k and "OMGClayAiken" has made $103k. "OMGClayAiken" is another player who has had a particularly strong month in both games, as he has booked a profit of $194k so far this month playing Pot Limit Omaha as well.
Speaking of Pot Limit Omaha, "trex313" is, as mentioned, leading the way in that game as well with a total profit of $418k for the month. Quite often you'll find that a player will be very strong in one game and then shoot off most of their profits playing the other. However, "Trex313" seems to be talented in both games.
"Eila" is also having a strong month playing Pot Limit Omaha so far in February, booking a total profit of $369k. Right behind "Eila" is "Ziigmund", one of the most entertaining and fearless poker players on the planet today, who has made himself $338k so far this month playing PLO. "Mrsmokey1" has made $331k in February (with all of his profits coming in one ultra-hot session) and "Manechka" is fifth on the list with a total profit of $245k.
High stakes action on Full Tilt Poker has cooled off a bit in the past week or so, as many players are currently traveling between tournaments or taking some time off before the busy spring and summer.
Source:
Highstakesdb
--
Filed Under:
Cash Games