Published on March 4th, 2008 12:14 am EST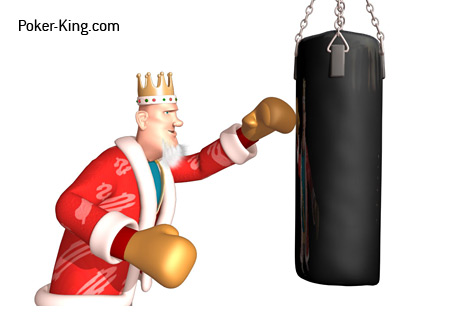 In case you weren't following the recent news in the poker world, Phil Hellmuth Jr. had a really poor run over the last few days. First, after making the final table of the L.A. Poker Classic, he ended up going out in sixth place after being crippled by Nam Le.
Next, the eleven-time WSOP bracelet winner drew Tom "durrrr" Dwan in the first round of the National Heads-Up Poker Championship. The match ended after just three hands, after the two players got all of their chips in the middle with Dwan holding pocket tens and Hellmuth Jr. holding pocket Aces. A ten came on the turn, and Hellmuth was eliminated.
Based on his past behavior, it's pretty obvious that Hellmuth Jr. doesn't have a tremendous amount of respect for young "Internet" players. He has had run-ins with a number of young superstars, including the likes of Justin "Zeejustin" Bonomo, Sorel "Imper1um" Mizzi and now
Tom "durrrr" Dwan
.
As you can probably imagine, Hellmuth was more than a little upset after taking this beat, and went on to explain to "durrrr" that Dwan had played the hand extremely poorly. Dwan countered with a proposal to play a $100k heads-up match.
Hellmuth talks about the proposed match-up in his most recent blog posting. Hellmuth states his terms: they will need to play at a casino in the bay area, they will need to play during the daytime, and they will play "whenever he feels like it". Hellmuth goes on to say that he has nothing to gain by playing Dwan. I have a strong feeling that this match-up will never happen.
Negreanu challenged Hellmuth to a heads-up battle in the past, even offering up a % of Hellmuth's losses back, but Hellmuth didn't take him up on the challenge. I have a strong feeling that he won't end up playing Dwan as well.
I'm not sure what a one-off heads-up match would prove anyways. They should really play a number of heads-up matches, however there is little to no chance of that actually happening. Maybe at the World Series of Poker?
Hellmuth Jr. is an immensely talented No Limit Hold'em tournament player - there is no doubt about that. However, I believe that in a heads-up cash game battle, Dwan would definitely have the edge. As a matter of fact, I think that I would take Dwan, Mizzi or Bonomo in a heads-up match over Hellmuth anyday. Hellmuth seems to think that a "young" poker player just can't be as good as him, and I would disagree strongly with that statement. Hellmuth has the edge in experience, but in terms of "Poker IQ", Dwan shines just as brightly as Hellmuth does, if not brighter. If you asked Ivey, Antonius and other top cash game players who they'd rather play heads-up, I am willing to bet that almost everyone would say Hellmuth.
As I said, I like Hellmuth a lot and think that he does a lot to help promote the game, but he needs to lose this whole "Internet" players are garbage attitude that he has, cause it's just not true. I hope that this match does in fact go down, and I hope that they make it a series of matches. I'll bet on Dwan to win, anyone want the other side?
--
Filed Under:
Cash Games
|
Players In The News