Published on March 17th, 2008 5:01 pm EST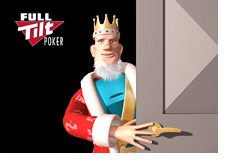 First off, we apologize for the lack of updates over the past couple of days. We took some time off to recharge our batteries and are now back at it.
David Benyamine has been putting in some decent hours on Full Tilt Poker as of late, and the effort has been paying off. Benyamine currently leads the list of top PLO winners so far in March with a total profit of $832k.
It is no secret that Benyamine is one of the top Pot Limit Omaha players in the world. If he decides to focus on just PLO and plays just a few tables at a time, then Benyamine should be immensely profitable over time. His biggest leaks in the past have been playing No Limit Hold'em (he usually dumps off his Pot Limit Omaha profits in this game) and playing too many tables at one time. Barry Greenstein once remarked that
Benyamine
simply plays too many tables at one time (online) to fully exploit his advantage that he has over other opponents in Pot Limit Omaha.
On the other side of the ledger is "Ziigmund". "Ziigmund" is currently sporting a loss of almost one million dollars for the month of March, a great deal of which was lost to Benyamine. Some of Benyamine's other victims in March have included Cole South (-218k) and Eric Liu (-145k).
Benyamine famously left Full Tilt Poker for a couple of months, deciding instead to focus on live cash games after growing unhappy with the amount of his losses on FTP. He seems to have grown comfortable with online play once again, as he has done quite well on FTP and is allegedly playing on Pokerstars under the alias "str8flushin5".
Benyamine has tremendous stamina while playing online, and can easily log multi-table sessions that last over 24 hours. He is good for the high limit PLO cash games on Full Tilt Poker, as he will normally play 3-4 tables at once.
Other big Pot Limit Omaha winners for the month of March on Full Tilt Poker include "durrrr", "LucLongley" (now known as Brian Hastings) and "KObyTAPOUT".
Source:
Highstakesdb
--
Filed Under:
Cash Games