Published on March 25th, 2008 5:01 am EST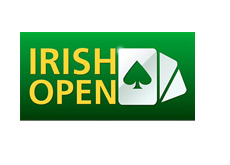 Neil Channing overcame a field of 667 players to take down the 2008 Irish Poker Open and the first place prize of just over 800k euros. Channing was the dominant chipleader heading into the final day of play on Monday and was never in any real danger during the final table.
The 2008 Irish Poker Open was loaded with talent, including the likes of Doyle Brunson and Sorel "Imper1um" Mizzi. All of the well-known players were knocked out earlier in the tournament, allowing names such as Donal Norton, Thomas Dunwoodie and Kai Paulsen to shine at the final table.
The final hand of the tournament came when Donal Norton pushed all-in holding pocket fives. Channing thought for a moment and called with his A-9. The flop came Q-A-10, making Channing a huge favorite in the hand and leaving Norton drawing to one of the two remaining fives in the deck. The turn brought a King, bringing about the possibility of a chop if a Jack came on the river. There was no such luck for Norton, as the river brought another ace and gave Channing the victory. Norton received 420k euros for his second place finish.
Thomas Dunwoodie went out in third place, collecting 275k euros for his efforts. Dunwoodie was on the short-stack and called Channing's all-in holding A-8. Channing turned over A-7, and Dunwoodie was a big favorite to double up in the hand. Things were looking up for Dunwoodie as the board read 4-Q-3-9, however the river brought the dagger as Channing paired his seven and Dunwoodie was eliminated.
Channing had another fortunate hand when he eliminated Tim Blake in fourth place. Blake was on the short stack and pushed all-in holding K-J. Channing called holding Q-6. The flop came 9-A-Q, giving Channing second pair but also giving Tim Blake a gutshot straight draw. The turn was a five, helping neither player, while the river brought another Queen. Blake collected 220k euros for his efforts.
Kai Paulsen was eliminated in fifth place after his top pair succumbed to the turned nut straight of Neil Channing. The flop came 6-8-K and each player checked. The turn was a ten. Paulsen bet out, Channing raised, and Paulsen eventually declared himself all-in. Channing snap-called holding 7-9, and Paulsen was drawing dead holding K-J offsuit. Paulsen left with 175k euros for his fifth place finish.
Edwin Tournier only lasted three hands on Monday, getting all of his money in on a board of J-J-7-Q-K holding K-7. Unfortunately for Tournier, Donal Norton flopped trips (J-10) and Tournier was sent packing with 135k euros.
Channing dominated the final table, eliminating all but one player (Edwin Tournier). He was aggressive with his big stack and was never in any danger of giving up his chip lead on the final day.
The final day only lasted a little over three hours with Channing making quick work of the other opponents at the table.
--
Filed Under:
Tournament Results