Published on April 5th, 2008 8:47 pm EST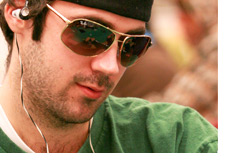 Jason "treysfull21" Mercier took down the EPT San Remo event on Saturday, cashing for a total of $1.34 million dollars in the process. The final table was one of the quickest in recent history, ending in under three hours.
Anthony Lellouche finished in second place for $779,215. Mercier had a big chip lead entering heads-up play, and the heads-up battle only lasted two hands. The two players got all of their chips in the middle with Lellouche holding a pair of sevens and Mercier holding K-Q offsuit. The flop was a great one for Mercier as it came A-Q-4 with two spades, giving him middle pair and the highest spade in case running spades came on the turn and river. The turn and river ended up being the harmless 8 and 2 of clubs, and Mercier secured the victory.
Dario Minieri, the tournament chip leader entering the final table, was eliminated in third place for $443,767. He was eliminated by Jason Mercier after both of the players got their chips in the middle after a flop of 7-2-8 with two diamonds. Minieri held pocket Queens and Mercier held A-4 of diamonds for the nut flush draw. The river brought the three of diamonds, eliminating Minieri from the tournament.
Eric Koskas was eliminated in fourth place and received $345,015 for his troubles. On a board of J-6-5-8-8, Koskas pushed all-in on a bluff, holding nothing but T-3. Mercier made a great call holding just 9-5.
These three eliminations took place over just four hands, which is the big reason why the final table was over as fast as it was.
Gregory Genovese was eliminated in fifth place for $290,855. He moved his short stack into the middle holding 9-10 offsuit and was called by both Jason Mercier and Dario Minieri. After a flop of A-5-7, Mercier bet out and Minieri got out of the way. Jason flipped up A-3 for top pair and Gregory showed his 9-10. Genovese didn't get a miracle runner-runner on the turn and river and was sent to the rail.
William Thorson was eliminated in sixth place for $216.946. He got into a pre-flop raising war with Jason Mercier. With all of the chips in the middle, Mercier flipped up A-K offsuit and Thorson showed A-Q of hearts. The flop was terrible for Thorson as it came K-6-5 with no hearts. Thorson would need runner-runner queens and didn't get them as the ace of clubs came on the turn. Thorson was eliminated from the tournament.
Dag Palovic was eliminated in seventh place for $172,507. He raised pre-flop and was called by Dario Minieri. Palovic moved all-in on a flop of 2-3-6 with two diamonds and Minieri quickly called. Palovic showed pocket queens and Minieri showed a flopped set of threes. The turn and river offered no help to Palovic and he was gone from the tournament.
The first elimination of the final table belonged to Markus Bower who hit the rail with an eighth place finish. Bower moved all-in holding pocket fours and was called by the A-J of Anthony Lellouche. Bower was looking good until the river, which brought the ace of hearts. Lellouche was eliminated in eighth place for $118,348.
This was Jason Mercier's first major "live" tournament victory.
Photo: GreasieWheels.com
--
Filed Under:
Tournament Results