Published on April 16th, 2008 6:12 am EST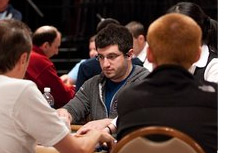 Phil "OMGClayAiken" Galfond, generally considered one of the top five online cash game players in the world, has put in an impressive April so far.
Galfond has made over $720k in total profits playing No Limit Hold'em so far in April (on Full Tilt Poker) and an additional $184k playing high stakes Pot Limit Omaha. Galfond, who previously used to play mainly NLHE, has now successfully branched off into Pot Limit Omaha as well.
"OMGClayAiken" is far and away the biggest No Limit Hold'em winner on the site so far in April. As mentioned, Galfond has made an estimated $720k so far this month, while "xSt0n3rx" is the second winningest NL player with an estimated profit of $274k. "tsarrast" is third on the list with total profits of $258k, and Brian Hastings and "Urindanger" round out the top five with estimated profits of $164k and $162k respectively.
A great deal of Galfond's profits this month have come from "GASSITT" who dropped hundreds of thousands of dollars to Galfond in one session.
As mentioned, Galfond's success also extends into Pot Limit Omaha. He has made an estimated $184k this month playing PLO, which is good for an entry on the list of top ten winningest PLO players on Full Tilt in April. The biggest winners so far this month are "ICallSoWhat" (+$920k), Marklus Golser (+$851k) and David Benyamine (+$491k).
According to HighStakesDB, Galfond has made an estimated $1.33 million dollars on Full Tilt Poker this year, as of April 15th, making him one of the largest winners on the site.
Source:
HighStakesDB
Photo: GreasieWheels.com
--
Filed Under:
Cash Games