Published on May 19th, 2008 5:27 am EST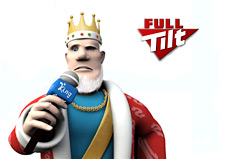 "Cheesemonster" smashed the competition on Sunday night / early Monday morning, outlasting 4,749 other players to take down the first place prize of $410k in the FTOPS VIII Championship event.
Jason "strassa2" Strasser was the odds-on favorite to take down the tournament entering the final table, as he was second in chips and likely possessed the most experience of anyone at the final table. "Dwarf" entered the final table as the chip leader.
However, it wasn't meant to be for "strassa2", as he went out in ninth place for $31k. He was crippled in a confrontation with "SLmelonman", and went out shortly after. On a board of A-8-3-10 with two clubs, "SLmelonman" bet, "strassa2" came over the top, and "SLmelonman" called for the rest of his chips. "strassa2" held A-2 offsuit, and "SLmelonman" held A-Q with the Queen of clubs. "strassa2" couldn't hit his two-outer (2 of clubs would have been no good as well), and he was eliminated shortly after.
"Awriver" went out in eighth place for $41.5k. He got all-in holding pocket Queens, and was up against the AK of "Dwarf". The river brought the ace of hearts, eliminating "Awriver" in eighth place.
"kiwid10" went out in seventh place for $54.6k. "kiwid10" pushed his short stack all-in holding A-7 offsuit, and was called by "Dwarf", who was on the button holding the A-9 of clubs. The turn put three diamonds on the board, giving "kiwid10" some more outs, but the river bricked and "kiwid10" was eliminated in 7th place.
"R3dL0bster" went out in sixth place for $71.2k. His exit was especially heart-breaking. He got all-in pre-flop against "MarMoss". "R3dL0bster" was well-ahead in the hand, holding pocket Kings against the pocket Nines of "MarMoss". The river brought the nine of clubs, and "R3dL0bster" was eliminated in sixth place.
"Dwarf" went out in fifth place for $95k. He raised pre-flop holding A-5 offsuit, and "cheesemonster" called in the BB holding K-10 of spades. The flop brought three Kings, giving "cheesemonster" the absolute nuts. Much to the delight of "cheesemonster", "Dwarf" pushed all-in, and "cheesemonster" snap-called. "Dwarf" went out in fifth place for $95k.
"frostey" went out in fourth place for $126k. "SLmelonman" pushed in the SB holding K-10, and "frostey" called his short stack holding A-3 offsuit. A King on the flop spelled the end of "Frostey", and he went out in fourth place for $126k.
"SLmelonman" went out in third place for $161k. He got all of his chips into the middle holding A-K, while "cheesemonster" held pocket tens. "SLmelonman" received no help from the board, and was sent packing in third place.
"MarMoss" went out in second place for $249k. He was short stacked, and went all-in holding K-10 offsuit. "cheesemonster" gladly called holding the K-Q of clubs, leaving "MarMoss" dominated. The flop came 4-J-Q, giving "cheesemonster" a pair of Queens, but also giving "MarMoss" an open-ended straight draw. The turn and river brought no help to either player, and "MarMoss" was eliminated in second place.
Congratulations to "cheesemonster". This is his second major FTOPS cash - he finished second in the $1k NLHE event in FTOPS IV for $131k, almost exactly a year ago today.
--
Filed Under:
Tournament Results