Published on May 22nd, 2008 10:13 pm EST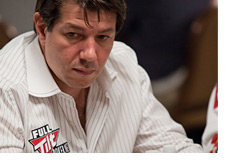 David Benyamine is gearing up for the high stakes cash games in Vegas during the World Series of Poker by crushing his competition on Full Tilt Poker. According to HighStakesDB (link below), David Benyamine is currently up over $1.8 million dollars in Pot Limit Omaha games on FTP, just in May. He apparently had a particularly juicy session this morning where he won over $700k, beating players such as "Durrrr" and "Alstonprice" out of six figures each.
Prior to this session, Benyamine had been up a still-ridiculous $1.15 million in May over 18,302 hands (in the PLO games). This works out to an unbelievable $62.83 in profit for each hand that he has played so far in May. Markus Golser, "Ziigmund" and Cole South have all had spectacular months in the PLO games on Full Tilt Poker, but they are all still lagging seven figures behind Benyamine on the month.
Can anyone argue that David Benyamine isn't one of the top Pot Limit Omaha players in the world?
Barry Greenstein once had this to say about Benyamine: "More than any player I know, David is so talented that it hurts him. On the Internet, he will put himself into situations where no one could succeed: multitabling five or six different forms of limit and no-limit poker against top-flight opponents. If he could be satisfied playing one or two screens of Pot Limit Omaha, I would take him over anyone."
Benyamine seems to have taken this advice, and his profits have swelled because of it. His biggest problem used to be that he would throw millions of dollars away in the high stakes NLHE games on Full Tilt Poker and Pokerstars. If you combine some of the aliases that he used prior to signing his deal with Full Tilt Poker ("ballsrider", "magicpitch1") with his current alias (David Benyamine), you can see that he won millions of dollars playing Pot Limit Omaha, but then threw almost all of that money away playing No Limit Hold'em. You'll still catch him playing Limit or No Limit Hold'em from time to time, but he seems to have mostly plugged that leak. Since the beginning of 2007, according to HighStakesDB, Benyamine's various aliases have dropped $3 million dollars on Full Tilt Poker playing No Limit Hold'em.
On the flip side, since the beginning of 2007, Benyamine has dominated the biggest PLO games on the site like no one else.
If you include his 700k win from earlier today, the "David Benyamine" alias has won around $5.3 million in the PLO games on FTP since the beginning of 2007.
Another one of his old aliases, "ballsrider", generated $1.51 million in total profits over that same time period, before being shut down. Yet another one of his aliases, "magicpitch1", is up over $682k from the beginning of 2007 until now. Add those three aliases up, and Benyamine is up around $7.6 million playing PLO on Full Tilt Poker since the beginning of 2007. That makes him by far the biggest PLO winner on the site during that time.
Now, these stats don't include any H.O.R.S.E. or any other of the mixed games on the sites. But the point is clear - if Benyamine follows the advice of Barry Greenstein and sticks to a couple of PLO tables at a time, he will likely be by far the biggest winner on Full Tilt Poker for years to come.
Photo: GreasieWheels.com
--
Filed Under:
Cash Games