Published on June 12th, 2008 8:59 pm EST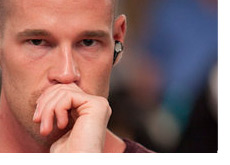 In his most recent blog posting entitled "WSOP and Golf Update", Patrik Antonius issued a challenge to some of the top young No Limit cash game players in the world.
The posting started out innocently enough. Antonius spent the first few paragraphs talking about his newly inked deal with Full Tilt Poker, and his deep runs in the $10k Pot Limit Hold'em and $5k Mixed events. Then he spoke briefly about a high stakes golf battle that he recently played with Daniel Negreanu.
After that was out of the way, Antonius switched his focus and issued a "little challenge". He issued the challenge to the "few online players who have been very successful at the biggest games online the past few months". He then mocked these players, saying that all they do is "hide behind their computer screens, scared to play anyone that they think is good". Antonius goes on to point out that even though these players have more experience than he does playing heads-up No Limit Hold'em on Full Tilt, they "refuse to play me" and are "dodging me in all games".
Antonius goes on to name the players that he is issuing the challenge to. They are:
Tom "durrrr" Dwan
Phil "OMGClayAiken" Galfond
Hac "trex313" Dang
Di "Urindanger" Dang
Patrik closes out his posting by saying that he will "play any of you in any game on Full Tilt".
Will these players rise to the challenge? We'll soon find out.
Source:
Patrik Antonius - Offical Blog
Photo: GreasieWheels.com
--
Filed Under:
Cash Games