Published on August 9th, 2008 11:06 pm EST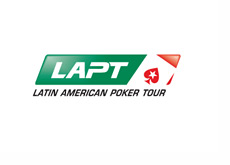 351 players took part in the Pokerstars.net LAPT Punte del Este poker tournament. The tournament field was dotted with some familiar names, including the likes of Humberto Brenes, Vanessa Rousso and Greg Raymer. But in the end, Jose Miguel Espinar outlasted the rest of the field (and Alex Brenes in heads-up play) to take down the championship and the first-place prize of $241,735. Brenes, the runner-up, took home $127,675 for second place.
The two players had nearly identical stacks in heads-up play when this crucial hand went down. The players got all of their chips in the middle (pre-flop), with Espinar holding A-10 and Brenes holding A-9. If Brenes could outdraw Espinar, then he would be champion. If Espinar's A-10 held, then he would have a dominating chip lead (Brenes would have less than half a big blind left).
The flop brought a nine, sending supporters of Brenes into hysterics. He was just two cards away from victory.
The turn brought a ten, driving a stake into the heart of Brenes. He was down to basically no chips, and was all-in on the next hand holding A-10. Espinar held K-5. A King on the flop clinched the championship for Espinar, giving him the title.
After Day 1, the tournament field had been whittled down to 93 players. After Day 2, the final table was set, with Alexandre Gomes (from Brazil) holding a commanding chip lead.
It wasn't meant to be for Gomes though, as he ended up getting eliminated in fourth place for just over $68k. He was eliminated after getting his decent-sized stack into the middle of the table holding Qs-7s on a flop of 4s-3c-6s. Alex Brenes, his opponent in the hand, held A-5 for the up-and-down straight draw. The turn was the 7 of hearts, given Brenes the straight. This leaves Gomes hoping for one of the remaining spades on the river, but it doesn't come, and Gomes hits the rail.
Lisandro Gallo was eliminated in third place after making an ill-timed bluff. With the board reading 2d-6h-10d-Jh, Gallo re-raised over the top of a 200k bet from Jose Miguel Espinar, pushing his remaining 800k in chips into the middle of the table, holding just 8-6. Espinar thought for a bit and then called, showing A-J for top pair, top kicker. The river was no help to Gallo, and he was eliminated soon after.
This left Espinar and Brenes to battle it out for the title, and Espinar clinched the championship after a few hours of heads-up play.
All in all, it sounds as though this was a fun and entertaining tournament, and a definite success. Congratulations to Jose Miguel Espinar on his victory.
--
Filed Under:
Tournament Results