Published on August 27th, 2008 1:29 pm EST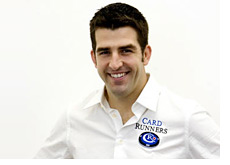 Brian Townsend, member of Team Cardrunners and a "red" pro on Full Tilt Poker, has publicly admitted that he has been playing on more than one account on both Full Tilt Poker and Pokerstars in recent months. He made a statement on the matter late last night on his Cardrunners.com blog. I have linked to the posting, titled "My Apology", below.
Townsend admits that he has been playing under the account "Stellarnebula" on Full Tilt Poker, even after signing his deal with the company to become a "red" pro. He says that he played under this account from February until the end of June, at which time Brian (along with Lee Jones) decided that he had better close it.
Townsend also admits that he played under the alias "makersmark66" on Pokerstars. (his original account on that site is "aba20")
The reason for the multiple accounts? Townsend says that "I enjoy anonymity when playing smaller and am very prideful in what I do". Basically, after destroying the high limit games for a while, Townsend hit a bit of a rough patch and felt like he should move down in limits, but was embarrassed to do so. So, he instead decided to create the second accounts so that he could move down in limits without being subject to ridicule.
According to his blog entry, Full Tilt Poker has revoked his red status for "six months".
Pokerstars have not announced their punishment as of yet, but I can't imagine that they will be anything less than harsh, especially if they want to continue to maintain a fair and even-handed policy when it comes to players having more than one account on their site.
Townsend goes on to say that in order to "compensate" those that were hurt by his actions, he will be donating $25,000 to a charity to be determined later.
Townsend goes on to further say that he will not be "hiding under a rock", and will be answering questions about the matter on both the Cardrunners.com forum and on 2+2. He also says that he will continue to work with and be a part of the Cardrunners team.
I've linked to the blog posting below. What are your thoughts?
Source:
My Apology
--
Filed Under:
Poker Scandals