Published on September 10th, 2008 6:27 pm EST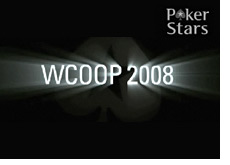 WCOOP #19, which is the 25k Heads-Up NLHE event with a $1.6 million dollar guarantee, is rapidly approaching the 64 player mark. With almost four days left until the event, there are already 59 players registered to play.
This will be a star-studded event that will feature some of the best poker players in the world. Some of the well-known "live" pros that have already registered include:
Barry "barryg1" Greenstein, Gavin "GavinGriffin" Griffin, John Duthie, Chris "Money800" Moneymaker and Daniel "KidPoker" Negreanu
Some of the players that have made names for themselves online that will be participating in the event (as of now) include:
Brian "$tinger 88" Hastings, "Andy McLeod", Tom "Hold_emNL" Dwan, Christopher "Genius28" Lee, Isaac "westmenloAA" Baron and Jeff "yellowsub86" Williams
The field should grow considerably larger as the event draws closer. There are still almost four days to go until registration for the event closes, and I can think of quite a few names that will almost certainly be participating in the event that haven't registered as of yet. How big will the field get? Can it hit 128 players, which would make for a prize pool of $3.2 million dollars?
One thing is for certain - Sunday will be a delight for railbirds on Pokerstars. Not only will you have the 25k Heads-Up event, but you'll also have the $1,050 NLHE event with the $3 million dollar guarantee. Should be a great day of poker on Pokerstars.
EDIT:
We originally emailed Pokerstars to ask if there would be a 64 player cap on this event. We were told that there wouldn't be a cap.
Today we received an email from Pokerstars that said this:
I'm afraid you were given incorrect information by us earlier. There is a
cap of 64 players for the $25k Heads-Up event. The tournament is currently
full with 3 days to go before it starts, so it's very unlikely that byes
will be an issue.
So there you go..
--
Filed Under:
Tournament Results