Published on September 29th, 2008 8:52 pm EST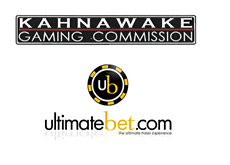 The Kahnawake Gaming Commission (KGC) released the initial findings of an audit being conducted by Frank Catania Sr. of Catania Gaming Consultants today. Russ Hamilton, former World Series of Poker main event champion, was named as the main person responsible for the Ultimatebet.com "superuser" scandal. Hamilton, according to the interim findings, was "formerly associated with Ultimatebet's affiliate program" and was responsible for bilking players out of millions of dollars, according to multiple published reports.
According to IGamingNews, Ultimatebet must begin refunding "all players adversely affected by the cheating scheme" by November 3rd, 2008. Apparently just over $6 million dollars has been refunded to date - based on what I've read, there should be more refunds on the way. This is leading many players, both at low and high limits, to wonder if they were victims of "superusers", and if so, how much of a refund they will be entitled to.
Edit: The previous figure of $60 million dollars that was reported by various sources was found to be erroneous.
IGamingNews goes on to say that while Russ Hamilton was the main culprit in the scheme, he did not act alone. Other names are "likely to come out in the final report."
The KGC is apparently in contact with law enforcement agencies and "intends to fully cooperate with the prosecution of all individuals involved."
More sanctions have been imposed against Ultimatebet, including:
-the forced removal of all people at Ultimatebet who are deemed "unsuitable" by the KGC, regardless of their status at the company. This will also include people who have an ownership stake in the company.
-the company must provide complete details of all day-to-day operations to Frank Catania up until November 3rd, 2008
-the company must pay a $1.5 million dollar fine to the KGC
-failure to comply will result in the immediate termination of their KGC gaming permit
The Commission, in their release, said that they had been presented "clear and convincing evidence" that between May 2004 and January 2008, Russ Hamilton had perpetrated "multiple cheating incidents" to enrich himself.
Again, a big thank you to everyone who was involved in uncovering this scandal. Some people really put themselves on the line to uncover the truth (with at least one person that I know of being threatened), and the online poker community owes them a debt of gratitude. I've included some links of interest below:
Sources:
IGamingNews - Refunds, Fine, Overhaul for Ultimate Bet, KGC Decrees
Cardplayer.com - Russ Hamilton was Behind Ultimatebet Cheating Scam
Nat Arem's Blog - One of the Main Individuals Responsible for Unearthing This Scandal
--
Filed Under:
Poker Scandals
|
Online Poker Rooms