"DuckU" Takes Down FTOPS #21 for $87k
Published on November 16th, 2008 4:43 am EST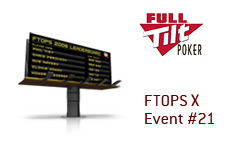 Has anybody put together a more impressive run in major online poker tournaments over the past year and a half than Greg Hobson?
"DuckU" was up to his old tricks on Saturday night as he took down another major tournament - this time it was FTOPS event #21, which was the $500+$35 Heads-Up NLHE tournament with a $500k Guarantee.
"DuckU" worked his way through the field of almost 900 entrants, taking down the first place prize of $87k after defeating "mendieta19" in the final match-up.
This is yet another major cash for Dobson in a high-profile online tournament.
He started off his torrid run in early 2007 when he took down the major Sunday tournaments on Full Tilt Poker in back-to-back weeks. He took down the $750k Guaranteed on Full Tilt for $152k, and then the very next week won the $400k Guaranteed for over $100k. This was an absolutely unbelievable feat - one of the greatest in the history of online tournament poker.
"DuckU" wasn't done there - not by a long shot.
He took down two UBOC events in 2007 and finished in fifth place in another. Hobson took down UBOC #2 (75k Guarantee) for $29k, and then followed this up with a victory in UBOC #4 ($200k Guaranteed) for $55k. He also placed in fifth in UBOC #5 for $14k.
Hobson continued his reign of terror at the 2008 WCOOP on Pokerstars.
"DuckU" finished in second place in WCOOP #5 (the $10k NLHE event) for $459k. He then followed this up with a 3rd place finish in the $530+R 6-Max event for $119k.
That is an unbelievable run for Hobson over the past 18 months+, and he surely deserves to be one of the top-ranked online tournament players in the world.
--
Filed Under:
Tournament Results