"LarsLuzak" Up Over Two Million Dollars Over The Past Three Days
Published on February 15th, 2009 3:50 pm EST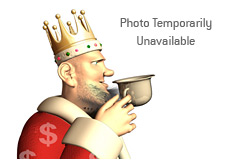 Sami "LarsLuzak" Kelopuro got off to a slow start in 2009, losing an estimated $825k in the month of January.
Things went from bad to worse for the Finnish player, as he dropped over a million dollars over the first 11 days of February, and now found himself stuck almost $2 million dollars on the year.
Kelopuro has quickly turned things around since February 11th though, amassing over $2 million dollars in profits in just three days. "LarsLuzak" has inflicted damage on a number of well-known players during that stretch, including Ilari "Ziigmund" Sahamies (-843k), Patrik Antonius (-606k) and Phil Ivey (-372k).
"LarsLuzak" has been running extremely well during this current hot streak, as evidenced by a particularly big hand that he played with Phil Ivey yesterday.
Prior to the hand, Ivey had around $180k, while "LarsLuzak" had a stack of around $200k.
After some pre-flop raising between Kelopuro and Ivey, the flop came K-7-8 rainbow. "LarsLuzak" led out with a bet of $13,000, and Ivey called. At this point there was $44,000 in the pot.
The turn card was the five of spades. "LarsLuzak" checked, Ivey bet $31,000, "LarsLuzak" raised to $137,000, Ivey quickly pushed all-in and "LarsLuzak" called.
Ivey showed 8-6-4-9 for a nut straight and flush draw, while "LarsLuzak" showed 10-10-J-9 for an open-ended straight draw.
The river brought the 10 of diamonds, giving "LarsLuzak" a higher straight and the $359k pot.
Not the most horrific beat in the world, but just an indication of how well "LarsLuzak" has been running over the past few days.
Source:
HighStakesDB.com
--
Filed Under:
Cash Games