Jamie Gold, Cardrunners on Poker After Dark and More
Published on February 17th, 2009 1:38 am EST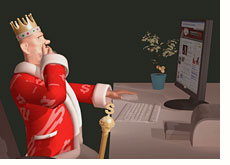 1. Poker After Dark: Nets vs Vets.
"Team Cardrunners" will do battle with a trio of seasoned poker veterans this week on "Poker After Dark".
"Team Cardrunners" will consist of Taylor Caby, Cole South and David Benefield. All three are well-known cash game players who have made millions of dollars online over the past couple of years.
They will be battling against Gabe Kaplan, Doyle Brunson and Eli Elezra.
This week will not feature the traditional winner-takes-all tournament format that is normally seen on "Poker After Dark". Instead, this week will be a cash game format, with a minimum buy-in of $100,000 and $200/$400 blinds.
This should prove to be an interesting week. Will the "young guns" run over the older players, or will the cagey veterans end the week on top?
The first show will air later tonight.
2. Jamie Gold Signs With Aced.com.
I'm sure you've heard by now that Jamie Gold, 2006 WSOP main event champion, has inked a sponsorship deal with Aced.com.
According to his agent, Gold turned down "several" endorsement offers over the past few years before finally deciding on Aced.com.
Aced.com, which operates on the Merge Gaming Network (which is the 19th largest online poker network in the world according to Pokerscout.com), opened in September of 2008.
Here's the kicker - according to
this MSNBC article
, "sources familiar with the transaction suggest that Gold stands to earn eight figures or more" from the deal.
The article includes a quote from Jamie Gold's lawyer, who states that "this contract is valued at more than any deal I've ever heard of".
The deal will also apparently pay for Jamie's buy-ins in "major USA, European and Asian events".
Many are asking the question - WTF?
Eight figures?
An
article on Bluffmagazine.com
pegs the value of the deal at closer to $2 million dollars.
This seems a bit more realistic, but still - this is quite a bit of money for a brand-new poker room to be dishing out, and it's not like they are inking a Patrik Antonius or Daniel Negreanu to a deal (no offense Jamie).
I'm sure that if Aced.com blows up over the next few years, Gold will stand to make eight figures in extra incentives and bonuses.
Either that, or the report of an eight-figure contract is just some really smart marketing by the people behind Aced.com.
3. Pokerstars 25 Billionth Hand Troubles.
The 25 Billionth hand on Pokerstars was dealt early Monday morning. What should have been a triumphant moment for Pokerstars quickly turned into a massive headache.
The winning hand was dealt at an Omaha Hi/Lo six-handed table.
The first "issue" occurred when a player at the table, "Confedrate", believed that he was going to share in the winnings and started celebrating with the other players.
Unfortunately for him, he had just sat down at the table and was UTG when the hand was dealt. In a move that will surely haunt him for the rest of his life, "Confedrate" opted not to post the BB and was therefore not eligible to receive any of the winnings. In order to receive any of the prize money, you must be dealt into the hand.
Customer support staff had to break the sad news to "Confedrate" that he was not eligible to receive any of the money.
After that, another player at the table ("NeonFrost") was timed out and folded his hand. He protested, saying that the software had folded his hand and that there was no way that he would have folded.
Luckily, Pokerstars decided to treat his hand as if he hadn't folded it. This resulted in a split pot between "NeonFrost" and "tupapi777" - the two players split the $100k first-place prize and both received a tournament package.
The rest of the players at the table received $33,333.33.
The Pokerstars server buckled under the heavy load, causing mayhem in the 25 Billionth hand.
Apparently new micro cash-game tables weren't being created as well, resulting in huge waiting lists.
A bit embarrassing for Pokerstars, but still - this promotion was a huge success, as traffic spiked to obscene levels throughout the weekend.
4. Ivey Posts First Strong Session of 2008.
Phil Ivey
and
Tom Dwan
went at it yesterday on Full Tilt Poker, and Ivey ended up posting his first strong session of the year.
According to
HighStakesDB.com
, Ivey banked nearly $700k on the day, while "durrrr" dropped over $800k.
Still no word as to when the "durrrr" challenge will begin - should be any day now.
--
Filed Under:
Cash Games
|
Online Poker Rooms
|
Poker on Television