"durrrr" Challenge Gets Underway
Published on February 18th, 2009 3:49 pm EST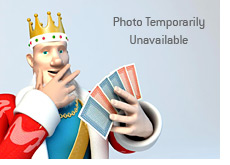 After months of build-up, the first "durrrr" Challenge finally got underway early Wednesday morning.
The first challenge pits Patrik Antonius against Tom "durrrr" Dwan.
The game of choice in this challenge is Pot Limit Omaha. According to the rules of the challenge, the two players must play a minimum of 50,000 hands with blinds of at least $200/$400. Also, there must be a minimum of four tables played at all times.
We've covered this before, but let's go over it again:
When the challenge concludes,
Dwan
will pay his opponent $1.5 million dollars if his opponent is up even $1 after rake. This is in addition to any money that Dwan's opponent will have made during the challenge.
If Dwan is up at the end of the challenge, then he will receive $500,000 from his opponent, in addition to any money that is won during the challenge.

As mentioned, Antonius and Dwan began their challenge early Wednesday morning.
1,541 hands were played earlier this morning. Dwan jumped out to an early (albeit small) lead in the challenge, banking a total of $134,911.50.
This represents just a couple of big blinds, so I wouldn't jump to any conclusions about the outcome of the challenge just yet.
The biggest hand of the day was a $148k pot that was won by "durrrr".
"durrrr" held 3-10-10-J, while Patrik Antonius held 6-J-4-8.
The flop came 7-10-5, giving "durrrr" top set and Antonius an open-ended straight draw, as well as a gut-shot straight draw.
The turn was the two of clubs, and the two players quickly shipped the rest of their stacks into the middle.
Antonius needed a three, eight or nine to win the hand.
The river was the harmless Jack of diamonds, and "durrrr" was shipped the $148k pot.
I believe that the two players are set to resume the challenge later today. We will continue to provide updates as the match continues.
--
Filed Under:
Cash Games
|
Online Poker Rooms