LAPC Update, "Durrrr" Challenge, High Stakes Poker
Published on February 24th, 2009 1:42 am EST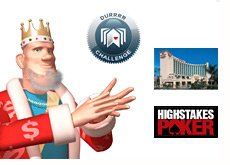 1. The "durrrr" Challenge.
Day 4 of the "durrrr" challenge took place on Monday.
After briefly losing the lead in the competition during Sunday's session, Tom "durrrr" Dwan retook the lead, and is now up just under $150,000.
A total of 3,956 hands have been played so far, which means that the competition is about 8% of the way towards being completed. 1,031 of these hands were played on Monday afternoon, and "durrrr" managed to bank a win of $206,757.
The biggest hand of the day was a $166k pot that was won by "durrrr".
"durrrr" was in the SB, while Antonius was in the BB.
After some pre-flop raising, there was a pot of $21,600.
The flop came 7-4-10 with two spades.
Antonius led out with a bet of $14,800, "durrrr" raised to $66,000, Antonius pushed all-in and "durrrr" quickly called.
Both players had hit the flop hard.
"durrrr" showed A-7-6-A with two spades for a pair of Aces and the nut flush draw.
Patrik Antonius showed 4-8-8-4 for bottom set.
The turn was the King of spades, giving Dwan the nut flush.
The river was the two of clubs, and Dwan was shipped the $166k pot.
Source:
durrrrchallenge.com
2. The L.A. Poker Classic.
Kofi Farkye is the chipleader of the event after Day 3, as he currently possesses a stack of just over 700k. He is far ahead of players such as Daniel O'Brien, Mike Sowers and Chris Karagulleyan, who all have around 500k-530k in chips.
There are a number of well-known names left in the tournament still, including:
Chris "Jesus" Ferguson - 312k
Nick Schulman - 238k
Paul Wasicka - 170k
Bertrand "ElkY" Grospellier - 122k
Jeff "Actionjeff" Garza - 72k
Antonio Esfandiari, who led the tournament after Day 2, was eliminated late on Day 3.
Daniel Negreanu, Phil Ivey and Toto Leonidas were some of the notable names that were bounced on Day 3.
Very impressive numbers for the LAPC main event this year - the turnout was even stronger than last year, even in the face of a crippling global recession. People who are forecasting dramatically lower numbers for the World Series of Poker this year might want to think again..
3. High Stakes Poker.
Just a friendly reminder that the fifth season of "High Stakes Poker" will begin airing on the Game Show Network on March 1st, 2009 (Sunday).
I've heard from multiple sources that this is a very good season, so you might want to tune in and check it out.
--
Filed Under:
Cash Games
|
Tournament Results
|
Poker on Television