Is the "Durrrr" Challenge Finished?
Published on March 12th, 2009 1:36 am EST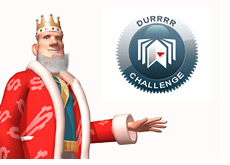 After starting to a great deal of fanfare last month, it appears as though the "durrrr" challenge might just fizzle out and die.
Earlier this year, Tom "durrrr" Dwan issued a challenge to every poker player in the world (except for Phil "OMGClayAiken" Galfond).
Dwan, in an effort to "get some action", issued his "challenge" in January of 2009. The challenge would involve playing 50,000 hands (minimum) against Dwan, at minimum stakes of $200/400, with a minimum of 4 tables going at the same time. His opponent could select No Limit Hold'em, Pot Limit Omaha or a mix of the two as the game of choice.
If Dwan was ahead at the end of the challenge by even $1 after rake, then Dwan's opponent would have to pay him $500,000, on top of whatever was lost during the course of the challenge.
If Dwan's opponent was up even $1 after rake, then Dwan would have to fork over $1.5 million dollars, on top of whatever he lost during the challenge.
The terms of the "challenge" were accepted by at least three players: Phil Ivey, Patrik Antonius and David Benyamine.
Antonius ultimately got the first shot at Dwan, while Ivey was apparently the next in line to participate in the "durrrr" challenge.
Full Tilt Poker got in on the fun as well, creating eight tables specifically for Dwan and Antonius to battle on, in addition to hyping the "challenge" on their site.
The challenge got underway on February 18th, with Dwan jumping out to a quick six figure lead.
Since then, the two players (Antonius and Dwan) have only managed to play an additional 2,600 hands. After 4,178 hands, Dwan currently has a $140k lead in the challenge.
The last action in the "challenge" took place on March 1st, and that was just a short 226 hand session.
The last significant action between the two took place on February 23rd, over three weeks ago.
I'm pretty pessimistic about the chances of this challenge ever finishing, for the following reasons:
1. Both players (especially Dwan) seem to prefer to play in the $500/$1000 games, rather than duke it out against each other in the challenge.
2. Dwan is stuck millions of dollars in 2009 (at least on Full Tilt Poker), and would probably rather play in the bigger games in an attempt to get some of his money back. Devoting your energy to playing Antonius heads-up is probably not the best way to accomplish that.
3. The World Series of Poker is quickly approaching (just 2 1/2 months away now). The WSOP is jam-packed with tournaments, live cash games and golf. Scheduling time to play online is going to be a difficult task during the summer.
4. EPT Grand Final approaching. One or both of these players will be playing in this event, which will lead to more travel time, and more juicy live cash games.
5. The 50,000 hand challenge is going to take a LONG time to finish. So far, Dwan and Antonius have completed about 8% of the challenge after starting almost a month ago. Maybe they'll grind out this challenge and finish it out, but it's not looking promising.
--
Maybe these two will slowly grind out the hands required to finish the challenge over the next 6-12 months, but it's not looking that promising.
Source:
Durrrrchallenge.com
--
Filed Under:
Cash Games