Ivey Up $1.8 Million Dollars in March
Published on March 14th, 2009 1:35 am EST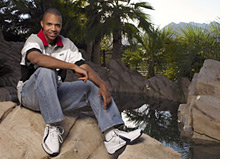 After a slow start to the year, Phil Ivey, arguably the best poker player in the world, is off and running.
After the first 12 days of the month, Phil Ivey is up over $1.8 million dollars. This is a staggering number which is made all the more impressive by the fact that the next most profitable player, Phil "OMGClayAiken" Galfond, is up $402k in March. Ivey isn't just doing well on Full Tilt Poker so far this month - he is absolutely destroying it.
Ivey, the most profitable player on Full Tilt Poker in 2008, got off to a slow start this year.
From January 1st to February 14th, Ivey dropped nearly $2.5 million dollars over just 11,595 hands. This poor start to the year wiped out over 33% of his profits from 2008.
Since then though, Phil Ivey has gone on an unbelievable tear, netting nearly $4 million dollars in profits in less than one month. Since February 15th, Ivey has won $3.764 million dollars over just 9,724 hands, which is one of the best single month performances of all time on Full Tilt Poker.
With his unbelievable performance over the past month, Ivey is now up over $1.3 million dollars on the year, and is once again in the list of the top 10 most profitable players on the site.
As mentioned, there is a huge drop-off between Phil Ivey and the second most profitable player in March. That distinction belongs to Phil Galfond, who has made $402k over the first 12 days of the month.
Hac "trex313" Dang has made $366k so far in March, which brings his total profits for the year to $3.77 million dollars.
Other players that have had strong starts to the month include:
Tom "durrrr" Dwan (+358k), Mark Vos (+262k) and Di "Urindanger" Dang (+192k)
Ilari "Ziigmund" Sahamies and Gus Hansen have been bleeding money so far this month, and are both down well over a million dollars.
"Ziigmund" is down nearly $1.7 million dollars this month, while Hansen has dropped just over $1.4 million dollars. Both players are still profitable for the year, although "Ziigmund" is dangerously close to dropping into the negative (+133k).
Brian Hastings (-405k), "HarrisMP" (-219k) and "LarsLuzak" (-211k) are all off to slow starts as well this month.
Source:
HighStakesDB.com
--
Filed Under:
Cash Games