Pieter de Korver Takes Down EPT Grand Final Main Event
Published on May 4th, 2009 5:18 am EST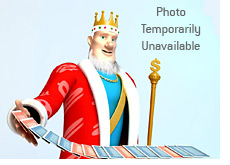 The 2009 edition of the EPT Grand Final wrapped up earlier today, with Pieter de Korver and Vanessa Rousso emerging as the two big winners.
26-year-old Pieter de Korver of the Netherlands battled through an incredibly tough field to capture the EPT Grand Final main event.
935 players took part in the tournament, but only one could claim the $3 million dollar plus first place prize.
In the end, that player was Pieter de Korver. Korver was down to just three big blinds during the final table, but managed to battle his way back to take down the tournament.
De Korver and Matt Woodward were locked in a heads-up battle for the title when this hand came up:
The flop came 10-6-5, all hearts. Woodward bet $700k, de Korver raised all-in, and Woodward finally elected to make the call.
de Korver turned up 9-6 for middle pair.
Woodward turned up 6-4 for middle pair (weaker kicker) and a flush draw.
The turn was the Queen of spades, which helped neither player.
The river was the 7 of spades, and de Korver had taken down the EPT Grand Final title.
Woodward received approximately $1.72 million dollars for his second place finish, while de Korver took home $3.05 million dollars for his victory, plus the EPT Grand Final title.
Here is how the final table finished out:
1. Pieter De Korver, $3.05 million dollars
2. Matt Woodward, $1.72 million dollars
3. Mikhail Tulchinskiy, $1.06 million dollars
4. Dag Martin Mikkelsen, $796k
5. Eric Qu, $623k
6. Alem Shah, $464k
7. Daniel Zink, $331k
8. Peter Traply, $225k
--
As mentioned, Vanessa Rousso was also a big winner on Sunday, as she managed to take down the High Rollers event for over 700k Euros.
The event featured some of the biggest names in the poker world, including the likes of Phil Ivey, Barry Greenstein and Gus Hansen.
in the end though, it was Rousso who managed to battle her way through a stacked field to take down the title.
Rousso is on a heater as of late, as she just recently came in second at the 2009 National Heads-up Championship for $250k.
The final hand of heads-up play came when Rousso turned the nut straight on a board of 3-9-8-5-K (she held 6-7). Her opponent in heads-up play, Randy Dorfman, held K-5 and was unable to get away from his two pair. Dorfman received about 434k Euros for finishing in second place.
Here is how the final table of the High Rollers event finished out:
1. Vanessa Rousso
2. Randy Dorfman
3. Tony G
4. Florian Langmann
5. David Eldar
6. William Thorson
7. Andrew Feldman
8. David Steicke
--
All in all, another hugely successful EPT event. The European Poker Tour continues to grow on an annual basis, and I wouldn't be surprised to see more of the same next year.
--
Filed Under:
Tournament Results