2008-09 Was a Huge Year for the European Poker Tour
Published on May 5th, 2009 3:39 am EST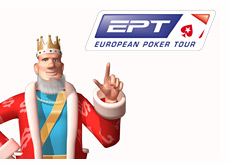 In 2008-09 we saw a changing of the guard in the poker world, as the European Poker Tour officially supplanted the World Poker Tour as the second biggest poker tournament series in the world (behind the World Series of Poker).
There were a total of 11 official EPT events in 2008-09 (not including the EPT London Million Pound Showdown or any of the High Roller events).
These 11 events had a total of 7,768 registrations, which created a total prize pool of around $65.6 million dollars USD.
Compare this to the 13 events in the 2008-09 WPT schedule, which had a total of 5,246 registrations and a total prize pool of around $61 million dollars USD.
The EPT didn't just pass the WPT this year - they blew by them. This isn't too much of a surprise given the surge in popularity of poker in Europe, as well as the involvement of Pokerstars in helping to market the EPT events (they sent a total of 2,379 players to EPT events this past year).
The EPT had two events with over 1,000 entrants (the PCA and San Remo events), while the largest WPT event had 696 entrants (the L.A. Poker Classic). The 2009 PCA had a staggering 1,347 entrants.
The EPT Grand Final has seemingly replaced the WPT Championship as the second most prestigious poker tournament of the year (behind the WSOP main event). The WPT Championship this year had a total of 338 entrants which created a total prize pool of $8.17 million dollars, while the EPT Grand Final had 935 entrants (with a smaller buy-in) and a total prize pool of around $12.43 million dollars.
With Pokerstars' ever-expanding customer base and marketing budget, it's hard to imagine that the momentum of the EPT will slow anytime soon. The WPT, on the other hand, is stagnant and doesn't have too much in the way of possible catalysts for growth.
Here is an overview of the 2008-09 WPT and EPT events:
WPT
Spanish Championship, 253 Entrants, $1.993 million dollar prize pool
Bellagio Cup IV, 446 Entrants, $6.489 million dollar prize pool
Legends of Poker, 373 Entrants, $3.52 million dollar prize pool
Borgata Poker Open, 516 Entrants, $5.0 million dollar prize pool
North American Poker Championship, 454 Entrants, $3.829 million dollar prize pool
Festa Al Lago, 368 Entrants, $5.35 million dollar prize pool
World Poker Finals, 412 Entrants, $3.87 million dollar prize pool
Five Diamond World Poker Classic, 497 Entrants, $7.23 million dollar prize pool
Southern Poker Championship, 283 Entrants, $2.66 million dollar prize pool
L.A. Poker Classic, 696 Entrants, $6.68 million dollar prize pool
Bay 101 Shooting Star, 391 Entrants, $3.71 million dollar prize pool
Foxwoods Poker Classic, 259 Entrants, $2.43 million dollar prize pool
WPT World Championship, 338 Entrants, $8.17 million dollar prize pool
EPT
Barcelona Open, 619 Entrants, 4.95 million Euros prize pool
London, 596 Entrants, 4.28 million Euros prize pool
Hungarian Open, 532 Entrants, 2.12 million Euros prize pool
Warsaw, 217 Entrants, 1.17 million Euros prize pool
Prague, 570 Entrants, 2.76 million Euros prize pool
PCA, 1,347 Entrants, 9.66 million Euros prize pool
Deauville, 645 Entrants, 3.09 million Euros prize pool
Copenhagen, 462 Entrants, 2.97 million Euros prize pool
Dortmund, 667 Entrants, 3.33 million Euros prize pool
San Remo, 1,178 Entrants, 5.71 million Euros prize pool
Monte Carlo, 935 Entrants, 9.35 million Euros prize pool
--
Filed Under:
Tournament Results