Are Changes Coming to the FTOPS?
Published on May 10th, 2009 3:33 am EST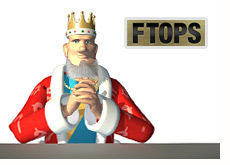 From a player's perspective, overlays are great.
The fact that four of the first seven FTOPS XII events have had an overlay is nothing but a positive thing for the players who have entered the tournaments.
However, from a business perspective, FTOPS XII is off to a pretty horrific start for Full Tilt Poker.
Event #1, Event #2, Event #6 and Event #7 of the 12th edition of the Full Tilt Online Poker Series (FTOPS) have not reached their guarantees.
Event #1 missed its guarantee by over $100k. This was a $200+$16 NLHE event - missing a guarantee in a RAZZ or HEROS event is one thing, but in a NLHE event? And by that much?
Event #2 wasn't nearly as bad, but it still missed its guarantee.
Events #3, #4 and #5 all met their guarantees. Event #3 topped the guarantee by about $65k, Event #4 topped the guarantee by about $80k and Event #5 topped the guarantee by $1,600.
Both events that took place earlier today missed their guarantees. This included the $500 PLO 6-Max event ($351k prize pool vs $400k guarantee) and the $100 NLHE Rebuy event ($578k vs $600k guarantee).
Not only are the overlays making Full Tilt Poker look bad, but they are also costing them money.
Case in point - Event #1.
4,445 people paid $216 to participate in this event. Full Tilt Poker took $16 as their tournament fee, while the other $200 went into the prize pool.
So, Full Tilt Poker took in $71,120 in fees, but ended up having to contribute $110k to meet the guarantee.
It's one thing to miss a guarantee for a game that isn't as popular, but to miss for two NLHE and two PLO events, which are the two most popular poker games in the world right now? Something's wrong.
So, what are the problems here?
Is it the fact that Full Tilt runs the FTOPS multiple times per year?
Pokerstars runs their biggest event, the WCOOP, once every year. This has helped tremendously in terms of building up the overall prestige of the event. I know multiple poker players who will postpone their post-WSOP vacations so that they don't miss the WCOOP - can you say the same about the FTOPS? Pokerstars has done a great job of turning the WCOOP into a can't-miss event, whereas Full Tilt Poker just seems to be trying to cash in by running the FTOPS 4-5 times per year.
Does Full Tilt need to do a better job of marketing the event? Do they need to do a better job of marketing their FTOPS satellites? Again, Pokerstars does a great job when it comes to marketing the WCOOP itself, as well as the WCOOP satellites. The releasing of the WCOOP schedule every year is an event by itself.
Again, from a player's perspective, there is absolutely nothing wrong with overlays - they are great. However, you have to wonder if changes are coming for the FTOPS.
What happens if half of the tournaments in FTOPS XII end up missing their guarantees? Will FTP decrease the amount of guaranteed money in future FTOPS events? Will they run the FTOPS less frequently? Or will they keep things the same as they are now? I can pretty much guarantee that these questions are running through the heads of the higher-ups at Full Tilt Poker right now..
--
Filed Under:
Tournament Results