Ilari Sahamies Up Big on Full Tilt Poker in May
Published on May 12th, 2009 5:25 am EST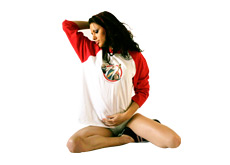 To say that Tom "durrrr" Dwan is having a volatile start to 2009 would be the understatement of the century.
After dropping nearly $4 million dollars of his bankroll on Full Tilt Poker to start the year, "durrrr" battled back, managing to nearly return to profitability in 2009.
After that, Dwan experienced some more negative variance, and by the end of April was down nearly $3 million dollars on the year.
May got off to a strong start for the 22 year-old poker phenom, as he managed to rake in nearly $1.4 million dollars over just 3,293 tracked hands (according to HighstakesDB.com). Dwan, though still down approximately $1.4 million dollars on the year at this point, had managed to significantly reduce his losses and seemed to be in the midst of another powerful upswing.
Dwan's upswing came to a sudden halt yesterday after he decided to tangle with Ilari "Ziigmund" Sahamies in a high-stakes, $500/$1000 PLO showdown.
Sahamies bludgeoned Dwan over the two-day session, taking in the neighborhood of $1.5 to 2 million dollars from Dwan's bankroll in just a couple of days.
At one point, the beating was so severe that "Ziigmund" had over a million dollars on one table. This isn't the first time that "Ziigmund" has been able to achieve this feat, and it probably won't be the last.
According to HighStakesDB.com, Sahamies and Dwan played four hands over the past 24 hours that resulted in pots of over $300k. Sahamies ended up winning all four.
The largest pot was a $394k monster that was won by "Ziigmund" after both players flopped trip Jacks.
The flop came 9-J-J. "Ziigmund" bet, "durrrr" raised and "Ziigmund" called.
The turn was the 2 of diamonds, and both players checked.
The river was the 4 of spades. "Ziigmund" bet, "durrrr" raised and "Ziigmund" called.
"durrrr" showed 2-10-6-J for a full house, Jacks full of Twos.
"Ziigmund", however, showed 4-A-J-Q for a full house, Jacks full of Fours.
--
With his impressive showing over the past couple of days, "Ziigmund" has now vaulted into the position of being one of the most profitable players on Full Tilt Poker in 2009.
Source:
HighStakesDB.com
--
Filed Under:
Cash Games