EPT Season Six Will Kick Off With EPT Kiev in August
Published on July 27th, 2009 8:16 am EST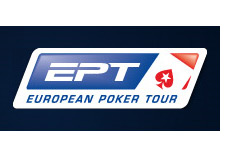 Last season, the European Poker Tour moved past the WPT (World Poker Tour) to claim the title of "World's Richest Poker Tour".
The reasons for the EPT's phenomenal growth and stunning success? An explosion of interest in poker in Europe, the backing of Pokerstars.com and a number of player-friendly stops (London, Bahamas, Monte Carlo).
It's no surprise that the tour continues to grow with each passing year. The EPT passed the World Poker Tour last year in total prize money, and I don't see the WPT catching up anytime soon.
The European Poker Tour recently released the first half of their Season 6 schedule.
The first stop of Season 6 will be the EPT Kiev, which will take place in Kiev, Ukraine. Originally this event was supposed to take place in Moscow, but the venue had to be changed due to the Russian government making the decision to close most of the casinos in the country.
This event will run from August 18th to August 23rd.
An additional six events have been announced so far. They are:
EPT Barcelona (September 4th to 9th)
EPT London (October 2nd to 7th)
EPT Warsaw (October 20th to 25th)
EPT Vilamoura (November 17th to 22nd)
EPT Prague (December 1st to December 6th)
PCA (January 4th to 14th)
The EPT Kiev and EPT Vilamoura are both new events.
The Hungarian Open, which had a total prize pool of approximately 2.1 million Euros last year, was not included in the first half schedule of season six.
There are reportedly six more events that will be announced for the second half of the schedule. You can be fairly certain that they will include the EPT Deauville, EPT Copenhagen, EPT Dortmund, EPT San Remo and EPT Monte Carlo Grand Final events.
John Duthie, founder of the EPT,
recently revealed to Poker News Daily
that the second half of the schedule would feature "one special surprise event". No word as to what that event might be - we should find out in a month or two.
It should be interesting to see what kind of turnout there is for the EPT this year.
Season 5 saw a total of 7,901 players combine to create a total prize pool of nearly 55 million Euros. Can Season 6 be even bigger?
Can the PCA continue to grow and top the staggering 1,347 players that turned out for the 2009 event?
Can the World Poker Tour close the gap next season, or will they fall further behind?
We'll begin to find out shortly.
Source:
European Poker Tour
--
Filed Under:
Tournament Results