Gus Hansen Down Five Million Dollars Since April 1st on Full Tilt Poker
Published on August 12th, 2009 9:52 am EST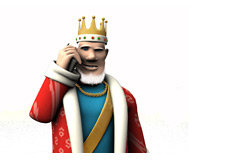 Gus Hansen is accustomed to big bankroll swings, but his performance over the past couple of months has to have him scratching his head.
Negative variance? Gus Hansen's bankroll has been downright bludgeoned since the beginning of April.
Things starts out great for Gus Hansen in 2009.
According to Highstakesdb.com, Hansen was the most profitable player on Full Tilt Poker through the first three months of the year.
According to the site, Hansen was up $3.2 million dollars over a total of 84,494 tracked hands from Jan. 1 to March 31st. Hac "trex313" Dang and Patrik Antonius were trailing closely behind with profits of around $3 million dollars each.
Since the beginning of April, Gus Hansen has been running extremely cold.
How cold?
From April 1st to August 12th, Hansen has dropped an estimated $4.99 million dollars on Full Tilt Poker over 93,975 tracked hands.
Do the math - that means that Hansen has lost approximately $53 for every hand that he has played on the site between the beginning of April and now.
This is by far the worst performance on the site during that time, and it's not even close ("LarsLuzak" has dropped an estimated $2.75 million dollars since the beginning of April).
This is an epic downswing - only a handful of players have dropped that much money on Full Tilt Poker in such a short period of time.
Hansen has been known to make some dramatic comebacks in the past - it wouldn't surprise me at all to see him win a few million dollars over the next couple of weeks.
However, it should be interesting to see how Hansen copes if he continues to lose.
Source:
HighStakesDB.com
--
Filed Under:
Cash Games