"Bob2bob" Crushing at FTOPS XIII
Published on August 16th, 2009 4:02 am EST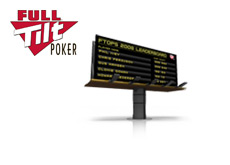 The player known as "bob2bob" is turning in one of the most impressive overall performances in the history of the FTOPS.
His run began in Event #8 ($240 + $16 NL Hold'em Knockout 6max) when he finished in fourth place for $55,728.00. "bob2bob" was able to navigate through a field of over 4,600 players to secure his fourth place finish in the event.
A few days later, in event #15 ($200 + $16 NLHE 6-Max Turbo), "bob2bob" once again finished in fourth place. "bob2bob" ended up collecting $36,693.10 after once again navigating through a very large field to finish in the fourth place spot.
And now, as if that wasn't enough, "bob2bob" currently sits as the chip leader of FTOPS #22 ($2,500 NLHE 2-Day) at the end of Day 1.
This field is filled with many of the top poker players in the world, and the fact that "bob2bob" is the current chip leader is just a testament to how well he is playing right now.
The tournament is now paused and will continue on Sunday afternoon.
The first place prize is an impressive $453,687.50, but there are a number of very good players standing between "bob2bob" and the title. It will be interesting to see whether or not "bob2bob" will be able to make yet another FTOPS XIII final table on Sunday.
Regardless, "bob2bob" has already had one of the more impressive showings in FTOPS history.
--
Filed Under:
Tournament Results