Tom "durrrr" Dwan Up $2.14 Million Dollars in Past Week
Published on August 22nd, 2009 2:26 pm EST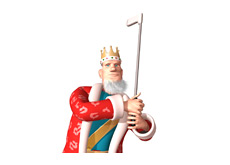 According to HighstakesDB.com, Tom "durrrr" Dwan is up an impressive $2.14 million dollars since August 15th.
This is quite the turnaround for "durrrr", considering that he was down $1.94 million dollars in August after the first two weeks of the month.
Much of Dwan's one week upswing has come at the expense of "martonas", who burst on to the scene earlier this month, and has since experienced a spectacular flameout.
Through August 17th, "martonas" was up nearly $2.4 million dollars over 11,143 tracked hands.
Since August 18th, "martonas" has suffered through a $2.6 million dollar downswing. Much of this $2.6 million dollars has been lost to Tom "durrrr" Dwan and Phil "OMGClayaiken" Galfond.
Dwan has had two million dollar plus profit days in the last week - he made an estimated $1.35 million dollars on August 18th, and an additional $1.0 million dollars yesterday. Pretty much all of this money was won in $500/$1000 NLHE action against "martonas".
With his strong performance over the past couple of days, "durrrr" is now up approximately $506k in 2009 on Full Tilt Poker. Not a bad performance at all, especially given the fact that he was down nearly $4 million dollars earlier in the year.
"Martonas", after bursting on to the scene earlier this month and drawing the attention of some of the best players in the world, is now down $312k on the year.
Is this the end of the "martonas" run on Full Tilt Poker? Or will he be back for more?
You have to give "martonas" a great deal of credit - he wasn't afraid to play anyone. He logged some serious hours against the likes of Tom Dwan, Phil Ivey and Patrik Antonius.
However, playing against the best in the world is rarely a good thing for your bankroll, and "martonas" took an absolute beating over the past couple of days.
If "martonas" doesn't resurface, then you can safely assume that the high stakes games won't be running nearly as often. Many players were making a point of turning up on Full Tilt just for the sole purpose of playing "martonas".
Hats off to "martonas" for making the high stakes games fun to watch over the past week - let's hope that this isn't the end of his run.
Source:
HighStakesDB.com
--
Filed Under:
Cash Games