"Durrrr" Challenge Resumes on Monday
Published on August 24th, 2009 8:51 pm EST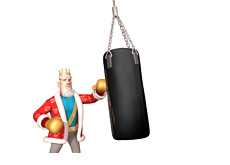 Earlier today, Tom "durrrr" Dwan and Patrik Antonius resumed the "durrrr Challenge" after a lengthy layoff.
The two players last hooked up in mid-June, with Dwan taking a sizable $700k+ plus lead in the challenge. The challenge has been on hiatus since then, mainly due to the fact that the two players were spending so much time inside of "Bobby's Room" at the Bellagio.
The challenge resumed earlier today though, with Antonius winning nearly $400k.
As it stands right now, "durrrr" has a slim $334k lead after 21,442 hands.
The two players still have over 28,000 hands to play before completing the challenge. Given that Dwan and Antonius have played 21,442 hands since the challenge began in early 2009, completing the challenge could take a very long time.
Here are some stats through 21,442 hands:
-Dwan is currently up $334,199.00
-Dwan has won 11,620 of the hands, while Antonius has won 9,751
-Dwan has won an average of $2,529.15 per winning hand, while Antonius has won $2,979.38
-a total of $165,553,853.50 has been wagered
-the largest pot ($477,555.50) was won by Patrik Antonius on June 19th
The largest pot won during Monday's session was taken down by "durrrr". Here is how it went down:
Antonius was the SB, Dwan was the BB. Antonius had around $112k in his stack, while Dwan had around $138k.
After a bunch of pre-flop raising, there was over $37k in the pot when the flop came 4-7-8 rainbow.
Dwan led out with a $32,400 bet, Antonius pushed all-in and Dwan called.
Antonius showed 8-9-10-A for a pair of eights, an open-ended straight draw and a backdoor club flush draw.
Dwan showed J-9-5-10 for an open-ended straight draw and a backdoor spade draw.
The turn brought the 2 of spades, giving Dwan a flush draw.
The river brought the 7 of spades, giving Dwan a flush and the $223k pot.
--
Hopefully Dwan and Antonius can log some more sessions over the short-term and move closer towards finishing the challenge.
We probably shouldn't hold our breath though.
--
Filed Under:
Cash Games