"Isildur1" Up Over Six Million Dollars in November
Published on November 14th, 2009 3:54 pm EST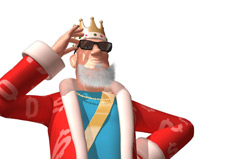 Over the past 13 days, the player known as "Isildur1" on Full Tilt Poker has netted himself over $6 million dollars in profits.
"Isildur1" has decisively smashed some of the very best poker players in the world during the first two weeks of November.
"Isildur1" has helped relieve Tom "durrrr" Dwan of nearly $5 million dollars of his bankroll. He has beaten Patrik Antonius for nearly a million dollars in a single session. The list goes on and on - "isildur1" is clearly not afraid to play anyone.
According to HighstakesDB.com, "Isildur1" is up $6,023,436 over 65,676 tracked hands. This works out to an average profit of over $91 per hand - not bad, considering that all of this profit came against some of the top cash game players in the world.
Thanks to his incredible run over the past 13 days, "Isildur1" is now the second most profitable player on Full Tilt Poker in 2009. He currently sits with a total profit of $5.033 million dollars on the year, which is about $900k less than Patrik Antonius.
Despite his torrid run over the past couple of weeks, the high stakes regulars on Full Tilt Poker aren't avoiding "Isildur1" (yet anyways). It should be interesting to see if "Isildur1" can keep this going, or if he is heading for a "martonas"-like flameout.
One thing is for sure - the high stakes games are much more entertaining when "Isildur1" is sitting.
One player that is certainly hoping to see "Isildur1" break is Tom "durrrr" Dwan. "durrrr" is down over $4.6 million dollars in November alone, and over $5 million dollars for all of 2009. I'm not sure how big his bankroll is, but a loss this big surely has to sting very badly.
All eyes will be on "Isildur1" in the days and weeks ahead. Will he continue to mow down the best players in the world on Full Tilt Poker, or will the momentum start to shift?
Source:
HighstakesDB.com
--
Filed Under:
Cash Games